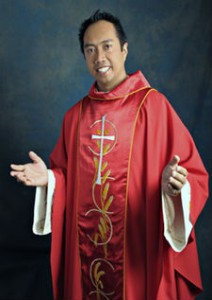 Bishop Robert Kurtz has invited Fr. Carlos Macatangga, a Filipino priest who is a pastor of Cristo Rei Parish and Ss. Salvador do Mundo Parish in Mississauga, Canada, to celebrate the first Filipino mass in Bermuda and the Philippines Independence Day on  June 12, 2014 at 6.30pm at St. Theresa's Cathedral.
A spokesperson said, "Fr. Carlos will be in Bermuda from June 7 until June 13, 2014, and will co-celebrate masses with Fr. Paul, Fr. Julio, and Fr. Joe during his stay in Bermuda. He speaks various languages such as English, Portuguese, France, Filipino/Tagalog, and others.
"Fr. Carlos is originally from Quezon City, Philippines, and was born on March 5, 1970. Both of his parents live in Quezon City and he has two sisters and one brother.
"Dominicans at Sto. Domingo had inspired Fr. Carlos to consider the religious life, but it was the Divine Word Missionaries [SVD] at Christ the King Seminary in Quezon City who opened the door for him to become a Missionary Priest. In 1996, he was sent to Chicago for theological studies and spent one year in Montreal, Canada for his internship, working with the Portuguese Community.
"He was ordained an SVD Priest on June 5, 2004 in Techny, USA. His first mission assignment was in Canada and he was tasked with opening the SVD Mission in the Archdiocese of Toronto in 2005.
"He attended primary education at Sacred Heart Academy in Retiro, secondary education at Judge Juan Luan High School, and A.B. Philosphy from Christ the King Seminary, all in Quezon City, his Master of Divinity with World Mission Concentration from Catholic Theological Union in Chicago, USA, and his Clinical Pastoral Education at the University of California in San Francisco, USA.
"He studied the French language at Institut Parisien in Paris and Institut Catholique de Paris, and the Portuguese language at Faculdade das Letras and Universidade de Lisboa, Portugal.
"From 2005 through 2010, he was the Associate Pastor at St. John Bosco Parish in Toronto and also, in 2007, Administrator at St. Matthew Parish in Toronto. He is the Pastor of Cristo Rei Parish and Ss. Salvador do Mundo Parish in Mississauga since 2010 through to the present. He recently celebrated his 10 year anniversary of priesthood on June 5, 2014.
"Please come and join CFC's Christian Life Program on Sunday, June 8, 2014 at 2.30pm at St. Michael's Hall on South Shore Road in Paget where Fr. Carlos Macatangga will talk about God's love. If you have questions about the event, please email sfcbdaclp@gmail.com.
"Everyone is invited on Thursday, June 12, 2014 at 6.30pm, to St. Theresa's Cathedral at 13 Elliott Street in Hamilton as we celebrate the first Filipino mass in Bermuda and the 116th anniversary of Philippine Independence.
"Shortly after the mass, a fellowship, with finger foods and drinks, at St. Theresa's Hall will take place in order to mingle and meet Fr. Carlos. For more information about that event, please call 799-6659, 534-7476 or 535-7760, or email cfcbermuda@gmail.com.
"This will be the first Filipino mass in Bermuda, and June 12 is one of the most significant dates in the Philippine's history, involving the declaration of independence by General Emilio Aguinaldo and Filipino revolutionary forces from the Spanish colonization, and was the first time that the Philippines' flag was flown and its national anthem was played."
Read More About
Category: All