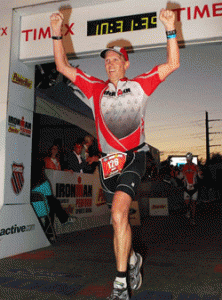 Mark Wilcox [pictured left], Sharon Alikhani [Hammond], Nancy Swartz, Jonny Betts, and Chris Gallagher all completed the Eagleman 70.3 Ironman Triathlon in Cambridge, Maryland.
Andrew Starykowicz produced a blistering bike ride for the 56 miles, averaging 27.49 miles per hour to hold off the field on the run and take first overall in 3:47:27 while seasoned campaigner Heather Wurtele was the first female to finish, with a tie of 4:11:03, just holding off a fast charging Caitlin Snow. Snow had a fantastic run of 1:18:57 compared to Wurtele's 1:23:01, but ran out of real estate to finish 36 seconds behind in second.
Bevan Docherty, who was the guest speaker at the Bermuda Triathlon Association's 2013 Annual Dinner, finished fourth overall after a strong second place finish last weekend in the Escape from Alcatraz Triathlon in San Francisco.
Wilcox finished in 4:39:02 for 16th position out of 218 competitors in his age group, while Betts recorded a time of 5:08:08, crossing the line 67th out of 297 competitors in his age group.
Alikhani clocked a time of 6:00:36, finishing 26th in her age group out of 83 competitors, while Swartz posted a time of 6:47:16 to finish 76th in her age group out of 123 competitors.
Gallagher came home in 7:11:17 to finish in 252nd place out of 297 competitors.
Read More About