Adventure and fantasy reign supreme at the National Museum of Bermuda where a playground like no other is now open inside its historic grounds.
Designed by award winning Danish firm Monstrum, the playground includes a 70-ft vibrant green moray eel wrapped around a 21-ft lighthouse with slide, which resembles St. David's lighthouse.
Other elements include sea grass climbing poles and a discovery sand pit in the shape of the Keep Fort. The playground targets toddlers to pre teens and adults young at heart.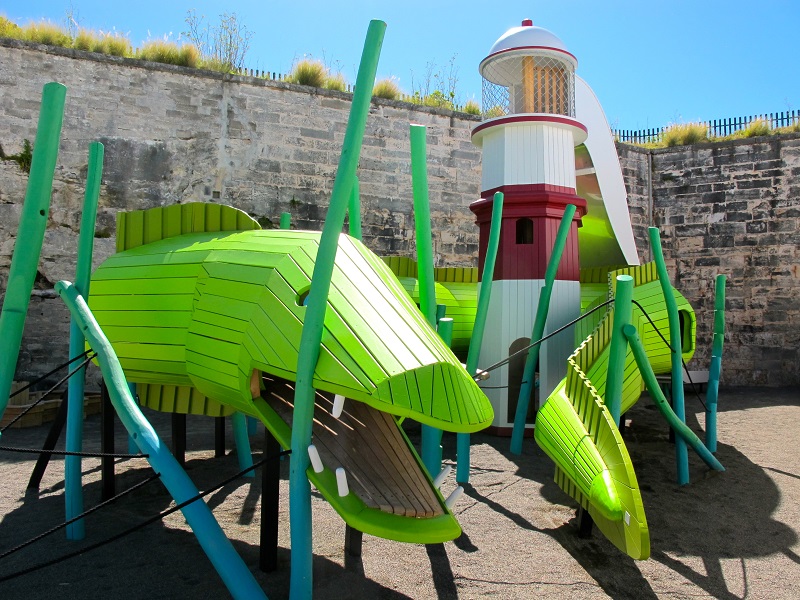 Monstrum is famous for creating unique, colourful, innovative and well-designed playgrounds that are adventurous, safe, and draw upon children's imaginations. Co-founders Ole B Nielsen and Christian Jensen started in theatre set design and now have over 100 playgrounds to their names, boasting elements such as giant sea creatures, Easter Island heads, shipwrecks, distorted buildings and dragons.
The Museum Playground is an art piece in itself, incorporating local natural and cultural heritage.
"It was fun to work with the designers to come up with something that is completely unique to Bermuda and fits well in the historic setting of the Museum," says Curator of the National Museum, Elena Strong. "
In this digital age, it is important for children to get outside, be physical, play and explore and the National Museum couldn't be a better place to do it as it is housed in a 19th-century fort!"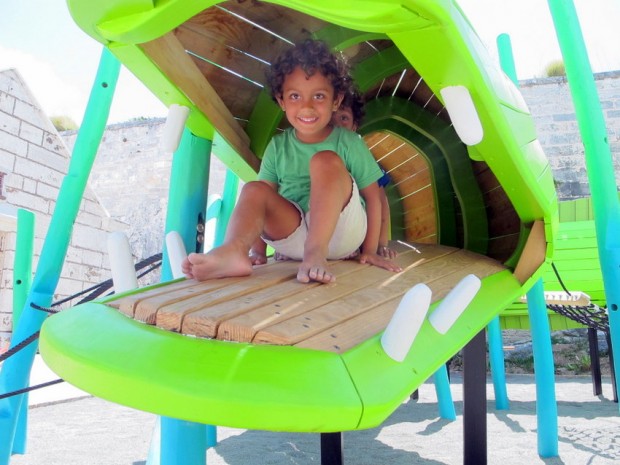 Adjacent to the playground, due to open this fall is the Museum Playhouse, designed by Bermudian artists and designers, Russell DeMoura and James Cooper of Fungus Collective. Working with the Museum, they have created a room of interactive displays grounded in local history and focused on education.
"The emphasis is on learning through play as well as encouraging family learning. Much like a Pixar film, the Playhouse will have hidden secrets and adult jokes to make it fun and educational for the entire family," says Ms. Strong.
Both projects would not be possible without the generous sponsorship of ACE Foundation-Bermuda.
Lori Samson, Chairperson, ACE Foundation-Bermuda, said: "ACE is delighted to have partnered with the Trustees of the National Museum to support their vision – the Museum Playground which opens today and an educational children's interactive exhibit scheduled to open in the fall.
"These two areas of focus for the National Museum – youth development and community development – closely align with the ACE Foundation's mission to strengthen the community through support of activities and educational initiatives."
The Museum Playground is located in the National Museum in the lower grounds by the Dolphin Quest facility in Dockyard. It is open from 9:30am – 5pm, with the last admission at 4pm.  Children must be supervised by an adult.
The Museum entrance fee is $12 for adults, $10 for seniors and free for children under 16, with a Family Membership available for $75. For more information please contact info@nmb.bm or 234 -1333.
Read More About
Category: All, Entertainment, News