The airport was the scene of celebration this weekend as Bermuda's team returned home from the Delaware Regional Special Olympics with an impressive haul of medals – having captured a total of 44.
Bermuda's team included students from the CedarBridge Academy Functional Skills Class as well as Somerset Primary students, with the athletes winning 27 gold, 11 silver, and 6 bronze medals.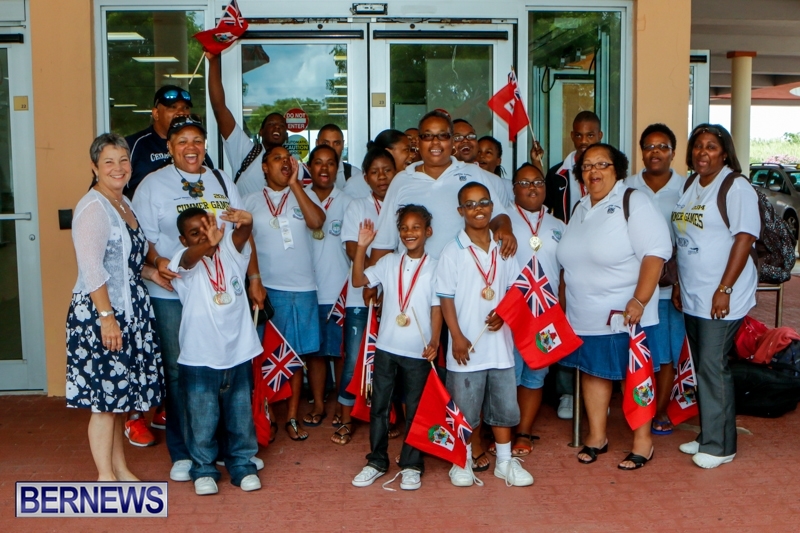 MP Suzann Roberts Holshouser said, "On behalf of the Minister Wayne Scott, I am very pleased to be here, and on behalf of the people of Bermuda, I'd like to say and extend our congratulations to all participants, and their coaches because quite honestly without their coaches they wouldn't be able to participate. They need the support of Bermuda and I believe that they have it, I am very, very proud, as are all Bermudians."
CedarBridge Principal Kalmar Richards also came out to greet her students, saying: "I just want to say how proud I am of everyone, but I want to begin by giving thanks to Ms Zuill and Coach Watts, you do a phenomenal job with your leadership with respect to this awesome event.
"I want the students to know how proud I am of them. They are awesome when they compete in Bermuda, but when they go overseas and they continue to dominate and do so well, we recognize just how even more awesome they are. We are proud of them, and I want you all to know…..you're big time."
Bermuda's team included J'Naysha Maloney, Uriah Williams, Christopher Talbot, Solay Thomas, Dorjah Young, Shaqune Whitehurts, Bridgette Marshall, Mahalia Maynard, Kenlin Perinchief, Kirk Dill, Justin Smith, Nahziri Smith, Azori Stewart, and Del-Che Landy.
The team was accompanied by P.E. Instructor Ricky Watts, as well as CedarBridge Academy Functional Skills teachers Ralda Jones and Alicia Zuill.
Ms Zuill, who was beaming with pride and became emotional speaking about how well her students did, said when the students got out on the track there was "nothing stopping them."
"We had a blast, these children outperformed themselves," added Coach Ricky Watts. "Once they get under the spotlight, they just do it, they know who they are representing, they are representing great people here in Bermuda and their parents."
Read More About