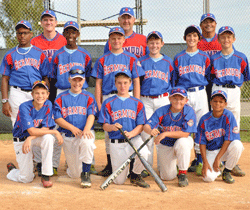 Bermuda's Cal Ripken All-Stars team are now 2 & 2 on their tour to Marlboro, Massachusetts with an 11 – 4 win over Westford.
The Bermuda team went ahead 1 – 0 in the top of the First Inning, and shut Westford out in the bottom half, Bermuda then scored 3 runs in the top of the second taking a 4 – 0 lead, but Westford scored 3 runs in the bottom half to pull within one.
The top of the third saw Bermuda score 2 more runs taking a 6 – 3 lead, Bermuda scored 5 runs in the top of the 4th making the score 11 – 3, but in the bottom half of the 4th Westford scored a run making it 11 – 4.
Neither team was able to score another run in the game.
Nasje Brokington and Sam Resnik managed to pitch 3 innings each, Brockington threw 10 First Pitch Strikes, while Resnik threw 5 First Pitch Strikes. Resnik recorded 4 Strike Outs, while Brokinton had 3 Strike Outs.
Read More About