With students in the top 1% worldwide, The Bermuda High School [BHS] said they are "elated" with its 2014 International Baccalaureate Diploma results.
91% of the class of 2014 was entered for the full IB Diploma with a 97% pass rate. In addition, the students achieved a 100% pass rate in individual subjects. The BHS average Diploma point score was 32 points, which is well above the world average of 29 points.
Head of School, Mrs. Linda Parker commented, "We are thrilled to report that our IB Diploma results are again outstanding this year with the top students, Brittney Ferreira and Wendy Tuxworth each scoring 42 points out a possible 45 points, placing them in the top 1% of IB Diploma students worldwide.
"Our 97% success rate for the full IB Diploma is particularly noteworthy as unlike many IB schools around the world, we do not pre-select students for entry into the IB Diploma, but rather all BHS students are given the opportunity to attempt this challenging programme, and this year was no exception.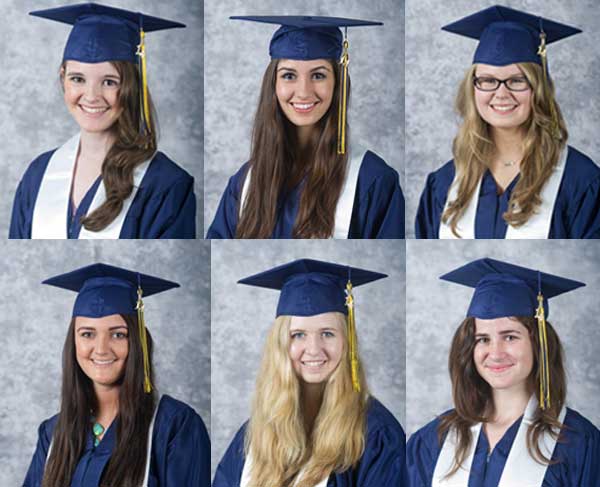 Reflecting on being in the top 1%, Brittney Ferreira remarked, "We had some great results this year and I'm very proud of them. We all worked so hard and it's always extremely rewarding to see hard work pay off. Our teachers are definitely to be thanked for their support and all of their help both in and out of the classroom in preparation for our exams.
Fellow top scorer, Wendy Tuxworth concurred, "I am enormously proud of everyone's achievements in the IB Programme this year – not only did we work hard, but we had the full support of every one of our teachers behind us. I cannot imagine where I would be today without the consistency of my teachers' support and enthusiasm, and I am immensely thankful.
"Not only did BHS set us all up for success in the International Baccalaureate Programme, but it has also set us up for highest possible achievements in university and in our lives beyond academia. Once again I cannot state how thankful and grateful I am. "
Mrs. Kate Ross, IB Coordinator and Head of Senior Years, stated, "The fact that 67% of our students achieved 30 points and above, and 27% achieved 35 points and above speaks to the depth and strength of the IB programme at BHS. Notable successes were Rachel Daly with 39 points; Isabelle Stone and Zoë Smith with 38 points each; and Aoife Rynne with 37 points."
"Furthermore", added Mrs. Ross, "This year, as in previous years, we are pleased that students for whom the IB programme might have been considered too challenging, in fact attained the IB Diploma, thanks to the excellent instruction of our teachers, the support of peers and parents and the hard work of our students. "
Mrs. Parker continued, "Our IB students have received offers to pursue strong academic degree courses from universities in North America and the UK. Brittney Ferreira will be attending University College, London, where she will be pursuing a Law degree and Wendy Tuxworth will be heading to the University of Warwick to study English Literature.
"Rachel Daly will be attending the University of Birmingham, where she will be studying Medicine. Isabelle Stone is going to Boston University to major in Mathematics, whilst Zoë Smith will be pursuing Film and English Studies at the University of East Anglia.
"Aoife Rynne will be studying Linguistics at University College, Dublin in Ireland. In addition, many of our students have been offered scholarships, both locally and abroad."
Other acceptances came from University of Bristol, Newcastle University, University of Exeter and the University of Southampton in the UK and direct entry into the second year at McGill University and the University of Western Ontario as well as acceptances from Queen's University, McMaster University and the University of Waterloo in Canada. Students were offered places at Northeastern University and the prestigious Honours programme at Georgia State University in the USA.
Mrs. Parker concluded, "We thank our caring and supportive teachers for their unwavering commitment and subject expertise in helping our students achieve their highest potential.
"We are proud of all of our IB students for their strong work ethic, focus and determination to achieve their best against the challenging IB academic standard.
"Additionally, we are proud of our students' accomplishments in the arts, sports, leadership and the community. We are confident that our graduates are well-prepared for their future endeavours and wish them continued success."
Read More About