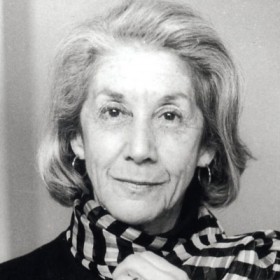 Imagine Bermuda said they wish to express their condolences on the passing of Nadine Gordimer, a Nobel Prize-Winning author from South Africa, who was a close friend of the late Nelson Mandela. Ms. Gordimer died on Sunday in Johannesburg at age 90.
A spokesperson said, "From a young age, she was one 'walking her walk', offering an example of personal transformation to fellow whites under an apartheid system.
"Her relationship with Mandela began when she became involved in the Anti-Apartheid movement in the early '60's. Gordimer assisted Madiba in editing his famous 'I am prepared to die...' speech that he used to conclude his Court case on treason charges in 1962. She was one of the first persons that Mandela met with when he first came out of prison in 1990.
"Ms Gordimer was an artist who demonstrated that 'the pen was mightier than the sword'. She was first published at the age of 15 and went on to complete more than 30 books with some of these publications being banned by the Apartheid Regime. She received a number of awards for her writing, including the Booker Prize and the Nobel Prize for Literature in 1991.
"Having courageously worked to end apartheid, Nadine Gordimer had maintained that same spirit into her 90's. While a life-long member of the governing African National Congress [ANC], she – like her fellow Nobel Laureate, Desmond Tutu- made it clear that true loyalty is to 'principle', rather than 'personalities'.
"So she had publically offered constructive criticism of the leadership of the ANC, when she felt that this was required and promoted the importance of an active civil society in order to ensure democracy.
"It is perhaps symbolic of their connection that Nadine Gordimer has passed in the same week as that of the birthday of her belated friend – Nelson Mandela."
Read More About
Category: All