Progressive Labour Party [PLP] Leader Marc Bean is inviting members, supporters, and friends to the :green carpet affair entitled "Progress Over Politics."
Featuring guest speaker Dr. David Chapman, the event is set to be held on August 8, 2014 at The Berkeley Institute at 7.30pm.
A PLP spokesperson said, "Dr. Chapman is a graduate of The Berkeley Institute [1991]. He then attended Hampton University in Virginia, where he received his Bachelor of Science degree in Marine & Environmental Science.
"Subsequently, he attended the University of the West Indies [Mona Campus, Jamaica], where he completed two years of field research in Marine Ecology, working towards a Masters of Philosophy degree.
"Dr. Chapman then returned to Bermuda, where he enjoyed employment in various roles such as an adjunct college lecturer in geography, collegiate laboratory technician, an air quality technician, and secondary school environmental and marine science teacher, among others.
"Dr. Chapman received teacher certification through the Wheelock College joint program with the Bermuda Ministry of Education, and has also recently received Qualified Teacher Status in the United Kingdom through the Institute of Education.
"He taught at The Berkeley Institute from 2002-2007, and rose to the level of Head of Year. Dr. Chapman has also earned his Master of Science degree in Environmental Analysis and Assessment from Royal Holloway University in London [2008]. Most recently, Dr. Chapman has completed his Ph.D. in Sustainable Energy and Energy Security from Royal Holloway University, Surrey, UK."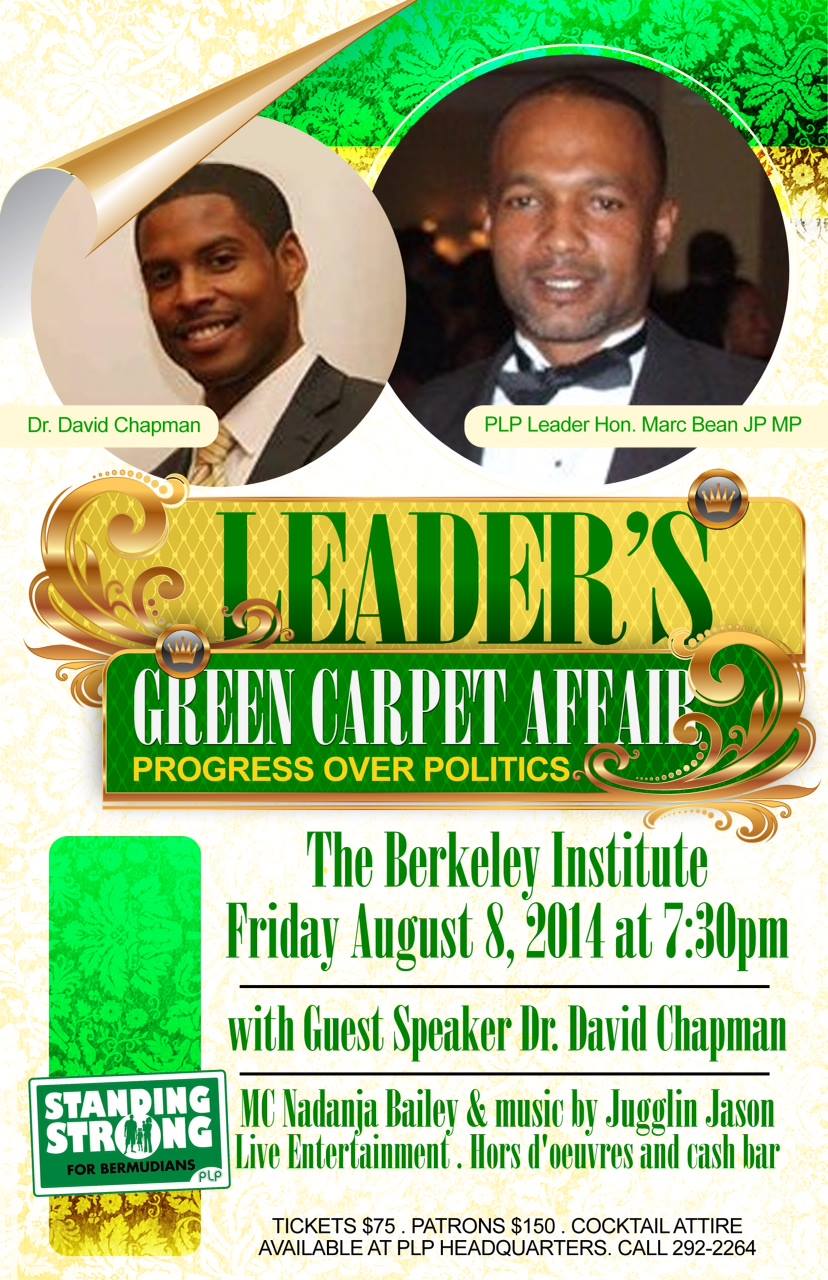 "Dr. Chapman also has shown a widespread commitment to his community. In 2005, he was selected to serve on the Sustainable Development Roundtable at the request of former Premier Alex Scott.
"In 2007, he served as Deputy Chairman of the Roundtable under former Premier Dr. Ewart Brown. Dr. Chapman has served as Executive Secretary of the Hamilton Parish Workmen's Club, on the Parks Commission, and on the Board of Agriculture.
"Dr. Chapman is the father of five children, who are all excelling in their respective disciplines and interests.
"The evening's Master of Ceremonies will be Nadanja Bailey, and there will be live entertainment such as Bermuda Idol Olivia Hamilton, as well as music by Jugglin Jason. In addition, hors d'oeurves will be served, as well as a cash bar.
"General tickets are $75 and are available at PLP headquarters. Patron tickets are available for $150. Dress is cocktail attire.
"We invite everyone to come out and enjoy this evening of entertainment and to listen to what will be wise words from one of Bermuda's own, Dr. David Chapman."
Read More About
Category: All, Entertainment