The Roundtable Discussion tomorrow [July 18] from 12.20pm to 1.30 pm at the Cathedral Hall, reflecting on the Legacy of Nelson Mandela and its implications for fostering a better Bermuda, is  "timely given the crisis that our island has been experiencing, of late," the organisers said.
"This is true because of some parallels between our two societies, which while geographically distant, do have some connections.
"Of course Mandela's qualities of leadership have been considered exemplary with people around the World. His 'toolkit' in handling the unparalleled crises in South Africa during that most dangerous period of their transition, offers lessons for anyone to adapt.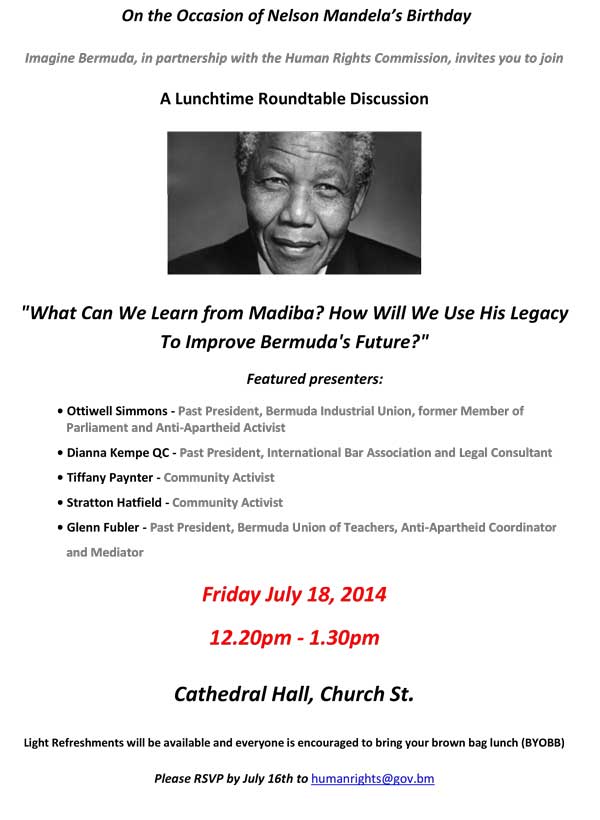 "Amongst the presenters contributing to the Discussion, all bring a perspective grounded in some experience of working in our local community. None of this group will have more relevant involvement in the island, than the elder statesman, Ottiwell Simmons.
:However, Dianna Kempe Q.C. will bring a unique perspective to the table, since she has had the unique opportunity to engage directly with Madiba. This came during her tenure as President of the International Bar Association, when that new democracy was ensuring that its legal system would be secure, as they moved forward.
"This Discussion will be include those in attendance through the guidance of the Executive Officer of the Human Rights Commission – Lisa [Lister] Reed."
Read More About
Category: All