The 2014 Summer Employment Programme [SEP] organised by the Ministry of Home Affairs is now well underway, with 150 Bermudian college and university interns working throughout government, the private sector, and the island's local non-profit and charitable organizations.
A spokesperson said, "Today [July 14], Minister of Home Affairs Michael Fahy met with Markus Raynor-Brangman, 22, who is currently enrolled in the Government's Summer Employment Programme working as a trainee pastry chef at The Reefs.
"Mr. Raynor-Brangman is currently pursuing a degree at Johnson and Wales University in Baking and Pastry Arts, Food Service Management, and has just completed his first year of studies.
"He began work at the Reefs in the first week of June under The Reefs' Executive Chef, Douglas Sisk."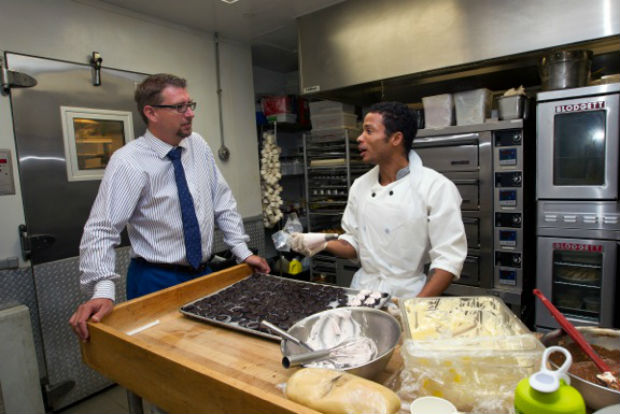 "My experience at the Reefs is going really well," Mr. Raynor-Brangman said. "I have met many interesting people, developed a different perspective on working in the kitchen, and I'm learning something new every day.
"A typical day at The Reefs involves me doing prep work for the Sunday brunch, crafting various salads and making chowder and sushi. When I am working in the pastry section specifically, I usually prep and bake the pie dough and cookies as well as help to craft any pastry item that my chef requires, such as the ice cream sandwiches.
"The location and timing of this summer placement was perfect. I am going into my second year of Baking and Pastry at Johnson and Wales, and working at the Reefs for the summer will further help to prepare me for the upcoming school year."
"Upon graduation, Mr. Raynor-Brangman hopes to gain international experience by working as a pastry chef in different countries around the world, before bringing his acquired knowledge back to Bermuda to share with the community. He also hopes to work for a wedding agency abroad specializing in creating wedding cakes and cup cakes."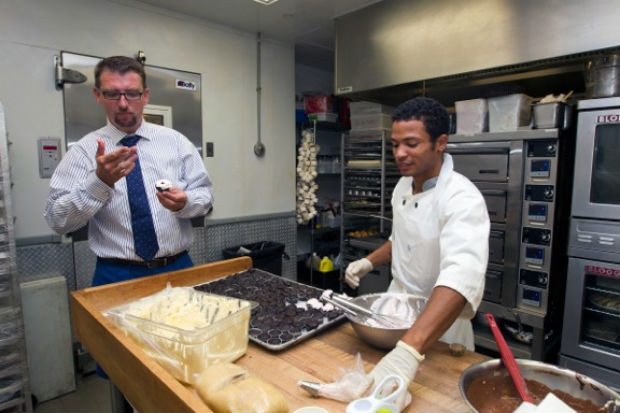 "What I love about what I do as a pastry chef is the precision of it all," Mr. Raynor-Brangman said. "You really have to pay attention to detail and honing that skill is definitely something that I am enjoying, not to mention I love the creativity in designing various pastries. It's art you can eat."
Minister Fahy said, "Markus is the prime example of a student whose placement through the Summer Employment Programme syncs perfectly with his chosen field of study. Through the Department of Workforce Development, students are selected to participate in the programme based on academic merit, full-time enrollment in a college or university, community involvement, a formal interview, and written essays detailing career goals and educational pursuits.
"Participants are provided exposure to employment opportunities where they learn leadership and decision-making skills and are given access to real-world work experience, training, and support.
"The SEP continues to be a very positive and worthwhile initiative and it is evidence of this government's continued commitment to provide development and training opportunities for all to support a sustainable workforce."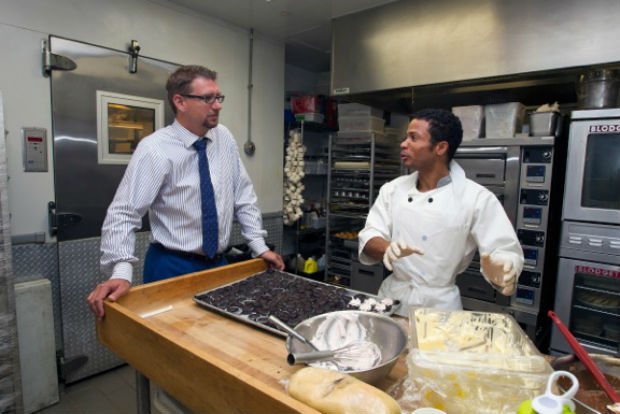 "Some of the academic programmes that interns are enrolled in include the fields of International Business and Insurance, Law, Hospitality, Business, Health, Graphic Design, Sciences, Education, Advanced Automotive Technology, Engineering, Television and Film Production, Arts and Communication, and Information Technology.
"Over the course of the summer, each student will complete the 10-week programme with 100 percent placement in their fields of study. For their efforts, they will receive a reasonable stipend."
Minister Fahy concluded, "This Government is heavily vested in our young people and that is demonstrated by our commitment to and support of the Summer Employment Programme. The programme was expanded last year to include 150 students, with the same number of students also being employed this year.
"It is important that our students are exposed to various work environments which stimulate their career interests. As a result of this meaningful work experience, it is our hope that students will gain invaluable skills that they can use both abroad and in Bermuda."
Read More About