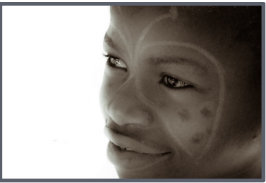 Stepping into the dry heat of the Ugandan bush, camera in hand, Dee Storey was unprepared for the incredible impact this trip would have on her as an individual.
Ms Storey traveled to Uganda in 2013 to see the work of The ISIS Foundation at Kiwoko Hospital as a representative of Aspen, a global insurance and reinsurance company.
In August, Ms Storey will exhibit images from her trip at the Bermuda Society of the Arts. Ms Storey's pictures capture beautifully the heart of Uganda and the heroes of the Kiwoko community.
The images will be offered for sale and the proceeds will be donated to The ISIS Foundation to help them continue to support the critical services provided by Kiwoko Hospital – specifically to ensure that women and babies have a better chance at survival.
"I am thrilled to be able to use my craft to show Bermudians the beauty of Uganda," said Ms Storey. "I hope that this exhibition will show that we can all giveback to the world in ways that have meaning to us as individuals… for me, it is through the images that I captured".
Aspen has supported ISIS' work at Kiwoko since 2007, with the company and its staff donating more than US$2.87 million to date. Each year a handful of selected Aspen staff members from offices around the world come to Uganda to see firsthand the impact of this partnership. Aspen is also the proud sponsor of Ms Storey's exhibition.
In 2013, after joining the Ambassador trip, the Chief Executive Officer of Aspen Insurance, Mario Vitale said, "Dee's photographs give a heart-warming glimpse into the lives of the people at Kiwoko.
"I did not fully appreciate what ISIS and Kiwoko Hospital do for thecommunity, how they are touching peoples' lives and how they are helping put peoples' lives back together until I visited Uganda. I was completely blown away, and I am so proud of the Aspen/ISIS partnership."
A spokesperson said, "Come take a walk with Dee to view the lives she encountered in Uganda. You will be touched and inspired."
Read More About
Category: All