In celebration of Jamaica's 52nd Independence Anniversary, the Jamaican Association of Bermuda [JAB] will be hosting the annual Independence Cruise on August 9, 2014, taking celebrants out aboard the MV Bermudian.
The cruise will feature entertainment from Magnum Force and Ranger Force, with DJ Jackstain.
In acknowledging the holiday, which falls on August 6, the JAB said, "On August 6, 1962, Jamaica became an independent nation. Our forefathers saw it best for Jamaica to pursue self-governance and to shape her own future. Today, 52 years later, Jamaica has come into her own.
"We can stand proudly on our achievements, our perseverance and fortitude. At 52, Jamaica holds an enviable position in track and field, reggae music, academia, arts and culture, research and development and the natural arts.
"With her unmatched accomplishments in many of these areas, Jamaica has gained worldwide recognition as a nation small in size but far-reaching in impact."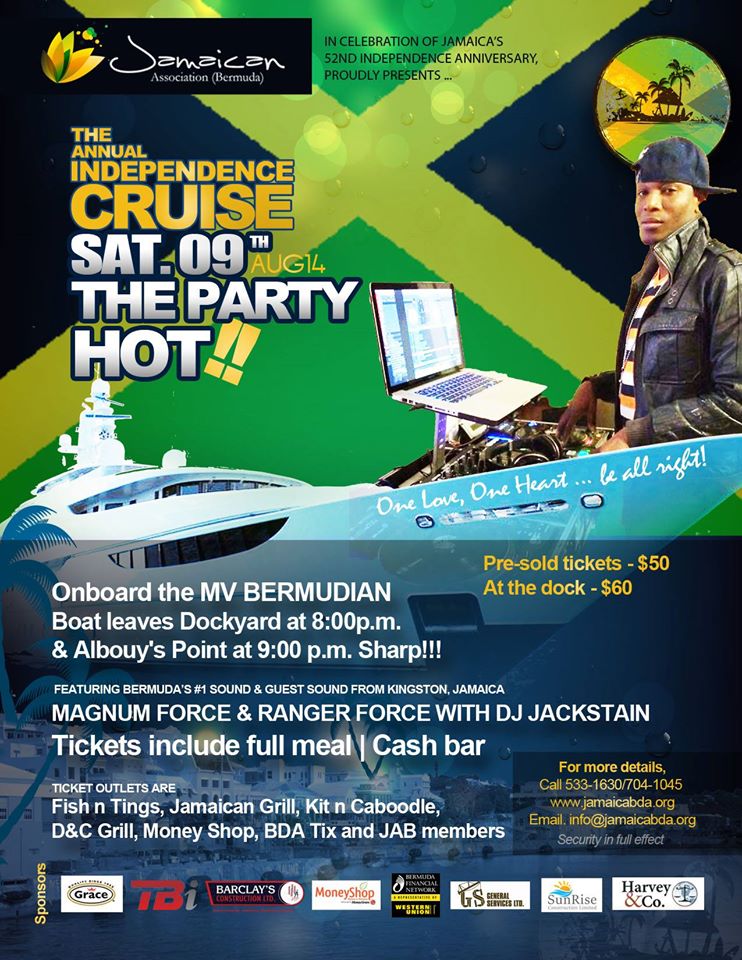 "As we celebrate today, do so rightly as the winners we all are. This journey we started 52 years ago will be trod with greater agility and purpose going ahead. For us here in Bermuda, we are away from home but we are full of pride for our island home Jamaica.
"With this in mind, kindly join with me and all other Jamaicans in celebrating this 52nd year of Independence on our Annual Independence Cruise on Saturday August 9, 2014 on board the MV Bermudian; this will be a momentous time for us all as a family.
"Happy Independence Day to you all, my Jamaican family."
The annual Independence Cruise will leave Dockyard at 8.00pm and Albuoy's Point at 9.00pm on August 9. Tickets are $50 in advance or $60 at the dock. All tickets include a full meal and access to a cash bar.
Tickets are available to purchase at Fish n Tings, Jamaican Grill, Kit n Caboodle, D&C Grill, Money Shop, BDATix, and through JAB members.
For more information, call 533-1630 or 704-1045, email info@jamaicabda.org, or visit the JAB website.
Read More About
Category: All, Entertainment