This year KPMG had eleven Bermudian university students complete a 12 week cultivating internship programme, which serves to assist talented, career-oriented university students who are interested in a career in accounting or finance.
Wanda Armstrong, HR and Graduate Recruitment Manager said, "The students were able to see firsthand how employment opportunities and training with KPMG is the start of a rewarding and lucrative career path.
"In addition to gaining valuable work experience, our interns took advantage of working along with our professional audit, tax and advisory staff in our student-friendly environment."
Back row from left to right: Brianna Buchanan, Claudia Hall, Shonte' Campbell and Tatyana Butterfield, Front row from left to right: Claudia Hall, Amy Green, William Garner, Haley Powell and Kris Furbert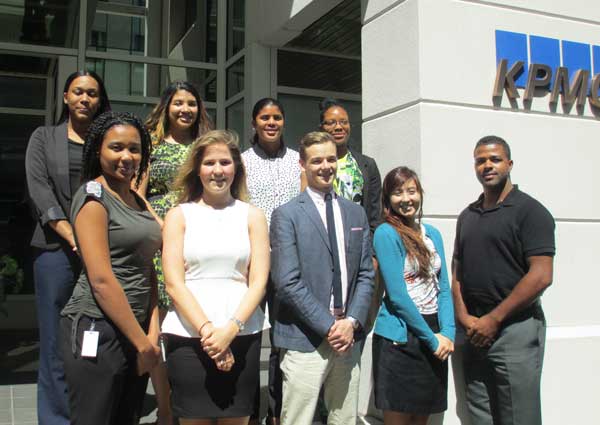 A spokesperson said, "The students started their internship by participating in a three week project for five local non-profit organisations. The tasks included a sustainability analysis of long-term fundraising strategies; transitioning manual accounts to an automated accounting system; focusing on strategies to best collect and collate information and assist in recommending formal procedures for cash management and revenue systems; developing long-term business plans; implementing and setting up procedures for an on-line payment system; and creating templates for an inventory record system.
"The projects provided the students the opportunity to use their initiative and creativity, with a mentor system in place, and allowed them to improve on their presentation skills as they delivered their findings and recommendations to KPMG's management and staff and the Senior Executives from the various charities.
Mr. Don Mackenzie, Chairman of the Family Centre Board stated, "I just wanted to commend KPMG for the intern presentations – it was nice to see all of the interns presenting and learning these important skills. I was able to gain a little understanding in person as to the way that KPMG interacts and provides mentoring and development to the interns.
"This reflects on a very good culture within KPMG as well. The interns are extremely lucky to have the opportunity to access this level of exposure and support. Congratulations on supporting and developing young Bermudians."
The students were also responsible for the planning, organising and filming of KPMG's annual summer K-Nect networking event held at the Lemon Tree Café on July 23, 2014. K-Nect provides any Bermudian student interested in studying accounting, finance or other business-related subjects an opportunity to meet and socialise with KPMG staff and find out more about what a career with KPMG can offer. This year's K-Nect event was a success and was attended by over 45 students. Log on to KPMG's "Careers" page to see a video clip of the event created by the summer students.
As a separate project, the students participated in the Centre of Philanthropy's Summer Intern Community Day at the National Museum of Bermuda. During this Community Day they assisted with renovating, painting and refurbishing the metal railings of the bastions to help beautify the Museum's grounds.
During the internship, KPMG also hosted three professional development workshops focused on developing other business skills. The students engaged in sessions covering "Dressing for Success"; "Communication, Listening and Interview Skills"; and "Dining and Workplace Etiquette" which consisted of a three course dining etiquette lunch at a local restaurant.
The eleven students who participated in the internship programme were Shonte' Campbell [Wofford College], Kris Furbert [European School of Economics in Madrid], Hannah Deevy [Oxford Brookes University], Briana Buchanan [University of Alabama], William Gardner [University of Edinburgh], Jotessa Musson [St. Mary's University], Tatyana Butterfield [Temple University], William Mackenzie [University of Bristol], Claudia Hall [University West of England], Amy Green [University of Exeter] and Marquedelle Philip Rodriguez [Berkeley Institute 2014 Graduate].
Steve Woodward, Managing Director and leader of KPMG's Graduate Programme, said, "The2014 Internship programme has been an enormous success. We have been extremely impressed with the high quality of this year's group of interns, and we expect that a large number of them will return after graduation to pursue a full-time career with KPMG in Bermuda.
"In fact five of our current intake of full-time graduates who will be starting with us in September 2014 were recruited directly from our internship programme. An internship with KPMG offers students meaningful work experience, where they are treated as engagement team members. It also allows the interns to provide support to our local community through the various Bermuda charities that we assist ."
Brianna Buchanan, 2014 KPMG Scholarship Award winner added: "The internship at KPMG has been one of the most rewarding experiences in my life. It was gratifying to work with other motivated, likeminded and driven students. I was placed in the Tax department where I was greeted by friendly coworkers who truly wanted to help me grow and learn. I didn't have much experience with tax; however there was always someone willing to give me a helping hand to better understand.
"I also enjoyed the various lunch & learns we had throughout the summer that allowed me to socialise with other interns while gaining skills that can be used both inside and outside the office with topics such as "Dressing for Success", "Dining and Workplace Etiquette" and "Communication, Listening and Interview Skills." I encourage any university student looking to pursue a career in accounting or finance to talk to Mrs. Wanda Armstrong to learn more about the worth while summer internship programme offered at KPMG."
William Gardner added: "When I applied for the Summer Internship Programme at KPMG, I was hoping to get experience with a wide range of companies and projects. The internship has exceeded my highest expectations. I was lucky to be able to intern in the Advisory department.
"I was involved in many different projects, ranging from writing an internal report on Chinese investment in the Caribbean, writing research memo's for other projects, helping to run the distribution of a KPMG publication and taking notes in some very interesting meetings. Most of all, I was impressed by how much the KPMG team cared about how the interns were doing, making sure they were always busy, learning and being productive, tailoring the projects assigned to them depending on their interests and studies and allowing interns the flexibility to initiate and get involved in projects that they were interested in."
For further information on the KPMG Internship Programme, visit kpmg.bm and click "Careers" or contact Wanda Armstrong at wandaarmstrong@kpmg.bm.
Read More About