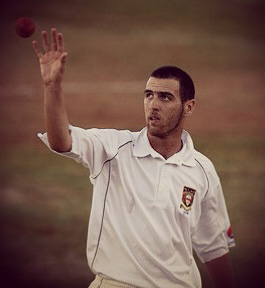 A Bermuda Regiment soldier launched an "all-out attack" for Somerset at Cup Match yesterday [July 31], with L.Cpl Jordan DeSilva swapping camouflage gear for whites as his team took on St. George's in the biggest cricket match of the year.
But Cpl DeSilva – an all-rounder, but more of a bowler – said his military training would stay with him over the two day clash.
He is currently posted to Training Wing, helping to mold the Regiment's future leaders in the Junior NCO's Cadre.
Cpl DeSilva said, "The Regiment has definitely helped with my fitness, organisation, and time management. Military training helps with organising my gear, things like that, and keeping to time."
Regiment soldiers are on duty over Cup Match, assisting police on both land and sea.
Cpl DeSilva said even Regiment comrades with dark blue and light blue loyalties had promised to cheer him on.
"I've seen a couple of Colour Sergeants who are St George's fans – but they said they will be for me," he said.
Cpl DeSilva, 24, has been playing cricket since he was 11-years-old and has notched up an impressive three previous appearances in the big game.
But he revealed, "When I was younger and started going to Cup Match aged nine, I was actually for St George's.
"I missed the last three years – I just got recalled this year – so I'm definitely excited. And of course we're going to win. That's not even a question."

Read More About