Caines Brothers Productions and 5 Star Barbershop are getting set to host a "Back 2 School" event with the theme 'Never Give Up' tomorrow [Sept 4] at the St. Paul's Centennial Hall on Court Street, with free school supplies to be handed out while barbers will be on hand in order to offer free haircuts to boys aged 4-18 as they prepare to head back to school.
Over 325 school bags, as well as other school supplies, have been donated to assist families in these challenging times. This year, some of the island's best barbers will join Michael Chamberlain's 5 Star Barbershop and donate their time and talent to island boys at their new St. Paul Centennial Hall location.
Barbers include, but are not limited to, 5 Star Barbers, Master Barber Carlos Moreno, Master Barber Eric Dunkley, Master Barber Marcus Robinson, barbers from Exclusive Barbershop, female barber Precious, and barbers from Ricky's Barbershop.
Food will be provided throughout the day free of charge and music will be provided by Trinity Sound.
Dwayne Caines said, "This is truly a community effort. A major portion of the funds for the book bags, school supplies, food, and barber supplies was donated by members of the community who recognize that it is important for all of us to do our part, no matter how big or small."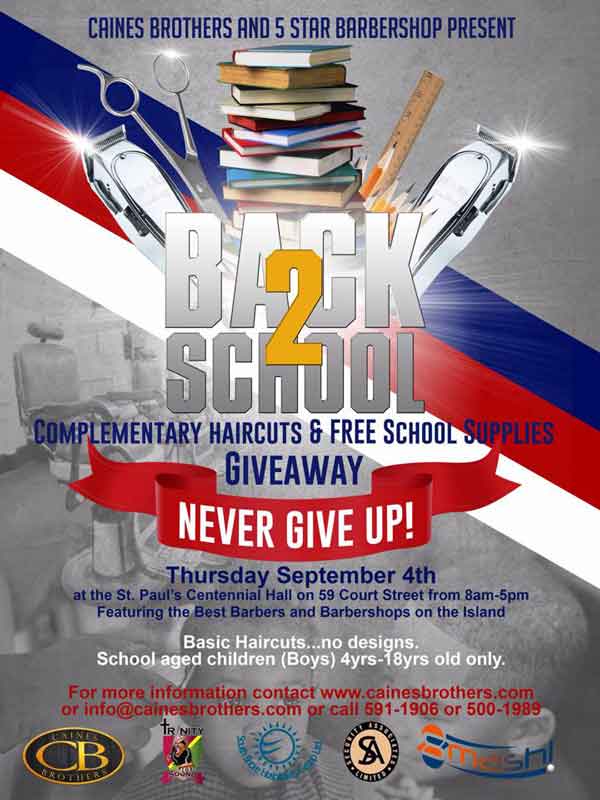 "Social media has also played a key role in mobilizing the community to help raise funds and awareness of the needs that exist in our community. This has been a community movement; people have mobilized their colleagues, family, and friends to help, and we are grateful to everyone who has assisted.
"We must say a special thank you to the Sunshine Company, who donated clippers to the barbers participating.
"It is the hope of 5 Star Barbershop and the Caines Brothers that this simple experience will signal a positive start to the new school year for our boys and girls, as we believe in the future of Bermuda."
Sponsors for the event include Trinity Sound, South Shore Hospitality Group, Smash, Sunshine Company, Alpha Phi Alpha Fraternity Inc, Security Associates Limited, and St. Paul's AME Church.
The Caines Brothers next project, a workshop for single parents raising boys, will begin in October.
Read More About