A group of 9 North Village youngsters have returned from a 12 day football tour in Glasgow, Scotland. This was the club's second trip to Glasgow since signing a five-year deal with Scottish giants Glasgow Rangers last summer.
Overseas development officer Greg Statt said he was delighted to welcome the Bermuda athletes back to Scotland and was pleased with the players' progress.
A spokesperson said, "The itinerary included daily training sessions with Glasgow Rangers' coaches at the impressive training facility Murray Park and the Toryglen National Training Centre.
"The boys underwent the same sport science screenings that the Rangers Academy team have to complete every 3 months. They were each asked to complete flexibility, standing jumps and 10-Meter sprints challenges. The Rangers coaches led training included sessions such as 'moves to beat an opponent,' 'finishing,' 'moves and turns,' 'combination play,' and 'decisions in game situations.'
"The young Rams also competed while in Scotland. They played in the local Barrhead tournament where they won six games, drew one and lost one. The Bermuda team also played against Rangers' Elite and Academy teams, the latter of which is the pinnacle as it consists of players who are on a professional path.
"While they defeated the Elite team by an impressive margin, the North Village players were challenged and suffered a major disappointment by the Rangers Academy team."
North Village President Stephen Coddington said, "It was clear that the quality of coaching, player awareness and technique is at a superior level. Our boys are some of Bermuda's most talented in their age group. Many of them are used to winning. These experiences allow them to recognize that they still have a lot to learn.
"That is a good thing. And while they were dejected during and after the game, we explained that we are very proud of each one of them and that we will continue to develop individually and as a team."
"The young players were treated to two Rangers games during their visit to Scotland. The Rangers league season opener against Hearts AFC and the Rangers vs Clyde league cup game. While the Rangers lost the first game in additional time, they stormed to an 8-1 victory against Clyde.
"The atmosphere was electric", said Mr. Coddington. "During half time, on four separate occasions, a message "Rangers FC welcomes North Village Community Club" was posted on each of the stadium's big screens. It was a proud moment for our young boys."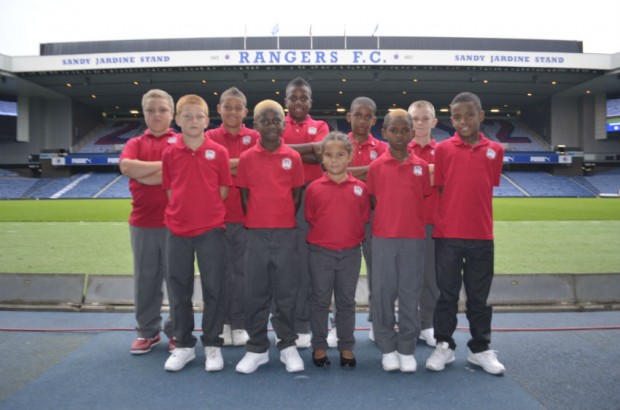 "The Village boys toured the famous Ibrox Stadium and met with Rangers Defender and Tunisian national squad player, Bilel Mohsni. The 26 year old who was born in France to Tunisian parents started out at a local club. It was after a lot of hard work, dedication and focus that he went to the UK to play for Southend United.
"After two seasons he elevated his career by signing a multi-year contract with Rangers Football Club. For 45 minutes the children asked the professional player about his discipline which included his diet, daily routine and sacrifices.
"He spoke to the children about the importance of school, listening to coaches, rest and recuperation. He described how making it as a professional football player is 70% mental and 30% physical ability.
Mr. Coddington said, "He was very genuine and generous with his time. He graciously took pictures with our players at pitch side, sat in the halls of Ibrox with them to answer even more questions and signed autographs".
"The football development agreement between North Village and Rangers FC is part of Rangers' International Soccer Schools programme. The agreement sees that Rangers coaches visit Bermuda on a yearly basis to provide on-island player development. It also ensures that Rangers coaches share methods and techniques with Rams coaches."
"Coach education is a big part of it as it allows them to still work at the level that we are working at," said Mr. Statt, who is planning a trip to Bermuda next month to review the curriculum with Village coaches and ensure that it is being properly implemented within Bermuda's Premier Youth Programme.
"We are still building the relationship. We will continue to review it every year to see how we can improve it or change it. Ultimately, we want North Village to be successful.
"It is not what the relationship is built on, but we wouldn't be doing our jobs or the best for Rangers if we weren't looking at their talented players. If someone looks to be at the right level a pathway will be put in place for them to come over."
Mr. Coddington finished by saying, "We are very pleased with the results from the relationship to date. Registration is open for the new football season and it is our hope that more boys and girls will join North Village's youth program so that they too can take advantage of these opportunities".
For more information on North Village's youth program, visit online.
Read More About