Hamilton Mayor Graeme Outerbridge was joined by Deputy Mayor Donal Smith in welcoming a visiting group of travel professionals to City Hall on Thursday [Sept 18].
About 400 members of the American Society of Travel Agents [ASTA] and their guests arrived on Wednesday from New York City on board the Norwegian Breakaway for a three-day stay on the island.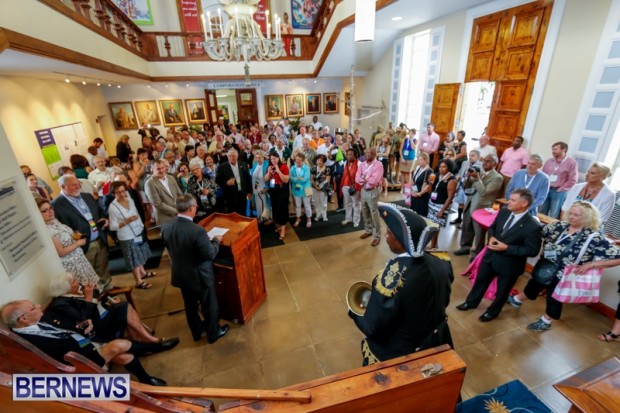 The Mayor and Deputy addressed a group of representatives in the Mayor's parlour before moving out to the City Hall foyer where a welcome reception was held for the visiting group and invited guests including Shadow Minister of Tourism Zane DeSilva and Shadow Minister of Environment & Infrastructure Glenn Blakeney.
Mayor Outerbridge, Deputy Mayor Smith and ASTA and Norwegian Cruise Line representatives:

'
ASTA President Zane Kerby said, "We have been treated so warmly by all the people of Bermuda. The 450 travel agents who have traveled here on Norwegian's beautiful Breakaway — representing 24 different countries — are very excited to be here and are enjoying the cuisine, architecture, and golf courses of Bermuda."
ASTA Chairman Roger Block noted he has been to over 89 countries and said, "The culture here is the most inviting and warmest of almost anyplace I have traveled in the world."
Click to enlarge photos:
Read More About