Saturday's incident started back in St. David's as the bike was following the car, which took detours around various roads, before eventually crashing in Southampton, Superintendent Martin Weekes said today [Sept 29].
The car crashed into a wall in Southampton at around 5.40pm following gunshots being fired into the car, and at that time, the police said the incident began in the Tee Street, Devonshire area, and said the two suspects on the bike were wearing white clothes.
Mr. Weekes said the suspects were not shooting at the car all the way from St. David's, and the shooting actually took place around the Warwick Lane and Fairmont Southampton area.
The car crashed into a wall after being shot at: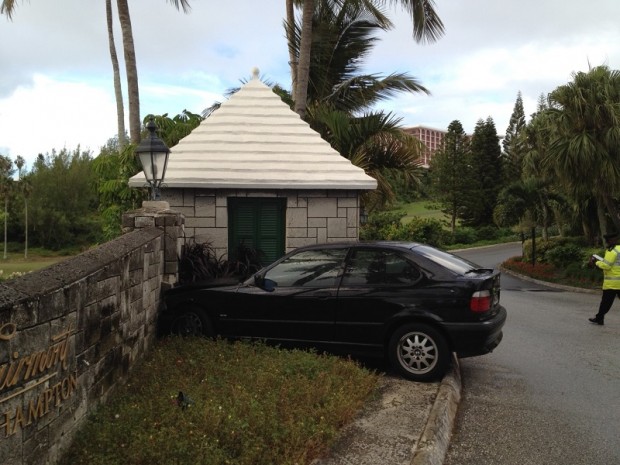 Speaking at today's press conference about the fight on Front Street, Mr. Weeks said, "There was a lot of talk after I spoke on Saturday night about the distance between where it started and where it finished. Well inquiries have revealed is that this, in fact, started way back in St. David's.
"But what I need to address is the misconception that there was a high speed chase with shots being fired all the way from Tee Street in Devonshire to the Southampton Princess. Clearly, that is not the case.
"This bike was following this car over a distance, and at some points, the driver of the car took detours around various roads to see if he was being followed. He was not being followed with people in a chasing mode, they were not shooting at him all the way from St. David's.
"The shooting, as I talked about on Saturday night, actually took place around the Warwick Lane and Southampton Princess area, and not all the way back from St. David's, where the following of the car actually happened."
Read More About