Inter-Island Communications Limited [IIC] continues its commitment to producing live events in Bermuda, and come Saturday September 20th the Ruth Seaton James Centre for Performing Arts will be filled once again with the blessing of inspirational Gospel music, when a variety of Bermuda's dynamic Praise Teams take to the stage for the 2nd Annual 2014 Praise Teams Gospel Concert.
As a result of popular demand from several attendees to last year's 'Sold-Out' inaugural event, whom requested that it be a more regular affair, IIC said they have obliged in deciding to hold the concert annually.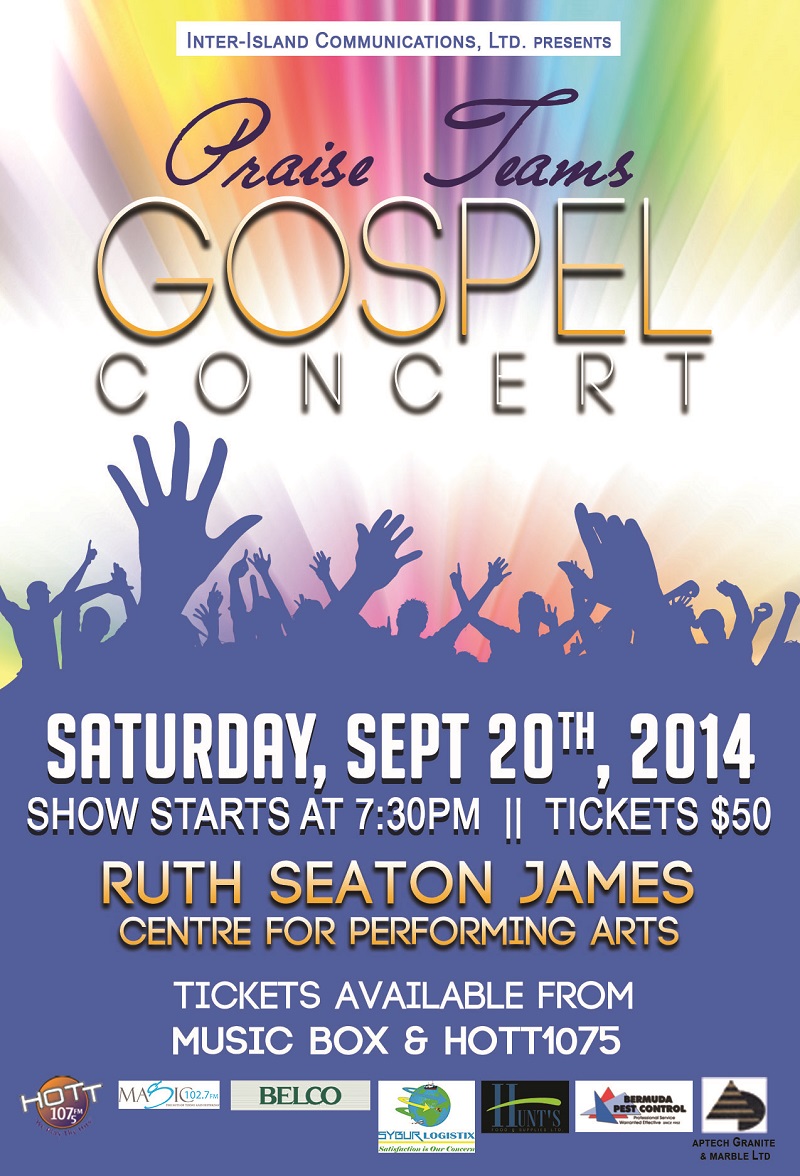 IIC Managing Director, Gwen Blakeney stated "We are extremely excited to have such great gospel talent perform as selected members of the respective Praise Teams, which include the Agape Faith Kingdom Ministries, The Hamilton Seventh Day Adventist Praise Team, The Glory Temple Team, The Richard Allen AME Young Adult Network Praise Team, The New Creation Church Praise Team and The Better Covenant Church Praise Team.
"At IIC, we pride ourselves in producing first class live events as responsible owners of Hott 107.5 FM and Magic 102.7 FM, which have proven to be Bermuda's two most popular 'community-focused' radio stations. So it's imperative that we stay directly connected to the community we serve."
Mrs. Blakeney added, "In these challenging times, it's especially important to us that we provide the opportunity for our listeners to enjoy wholesome uplifting live events and we also really enjoy offering the opportunity for local Gospel talent to showcase their awesome spiritual ministry in song. The audience truly gets involved during the performances. They dance, clap and sing-along with every group. It's just a wonderful atmosphere of giving thanks and praise."
The 2nd Annual Praise Team Gospel Concert is supported by BELCO, Aptech Granite & Marble Limited, Bermuda Pest Control Limited, Sybur Logistix and Hunt's Food & Supplies Limited. Doors open at 7:00pm and the concerts scheduled start time is 7:30pm at Ruth Seaton James. Advance Tickets are $50 and available at Music Box, 27th Century Boutique and HOTT 1075.
Read More About
Category: All, Entertainment, Music