The Commissioner of Police announced the promotions of Paul Simons and Steve Nurse to the post of Inspector. Inspector Simons joined the Bermuda Police Service in 1996 and Inspector Nurse has over 29 years of policing in Bermuda.
A police spokesperson said, "Paul Simons has worked in operational policing, Task Force [now the Police Support Unit], Roads Policing Unit and the Western Community Action Team. He will take responsibilities in the Duty Inspectors Office.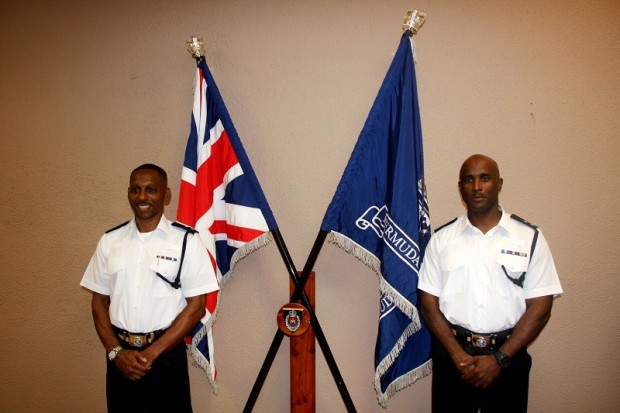 "Inspector Simons has three sons, is an avid sportsman as well as a track and field coach and Board Member of the Bermuda National Athletic Association.
"Steve Nurse has worked in operational policing, as a Parish Constable and in Special Branch. He is married with three children and one grandchild.
"In his spare time he is involved in martial arts, serves as a field hockey umpire for the Bermuda Hockey Federation and also plays field hockey for Police Polecats. Likewise, Inspector Nurse will take responsibilities as a Duty Inspector."
Speaking at the ceremony for the promotion of Police Sergeants Paul Simons and Steve Nurse to the rank of Inspector, Governor George Fergusson said,"The outcome of two high profile trials in the past week has shown excellent work by the Bermuda Police Service. But they also highlight good, consistent, often low profile work against gang violence and for community relations over several years.
"Not all the underlying problems relating to gangs have disappeared – sadly, far from it. But good progress has certainly been made.
"I have seen myself community interaction with the police, including in difficult contexts, which would be the envy of many police services. And the interaction of police and other public – and voluntary – agencies in the work of diverting people from gang activity and stopping gang violence before it happens has grown impressively.
"As I say, these issues are not finished with. There remains a lot to do. But it is good that some resources can increasingly be moved – in response to a clear need and to public demand – towards priorities such as, particularly, road safety."
Read More About
Category: All