The North Atlantic Conference [NAC] has announced weekly honours and Bermuda's Winston Trott has been named defensive player of the week.
Trott attends Thomas College, and the school's website said, "Trott recorded eight saves in the shutout over Bates College on Wednesday, winning 1-0. Trott was tested on back to back saves on point blanks shots. Trott would keep the shutout alive, coming up with a fantastic diving stop on a shot from close range."
Photo courtesy of Thomas College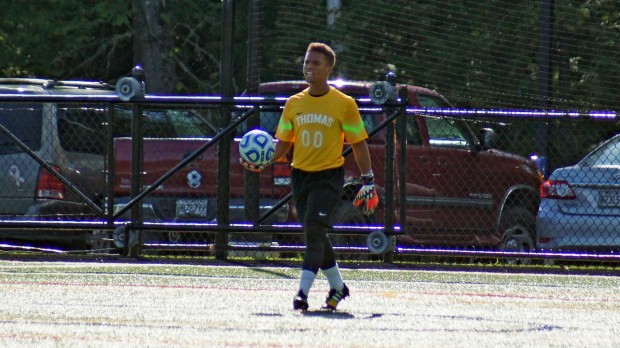 Thomas College — which is located in Waterville, Maine — actually has eight Bermuda footballers playing for their soccer team, with Winston Trott joined by Zeon Robinson, Mikal Simmons, Marcus Johnson, London Steede-Jackson, Tre Ming, Khamisi Lightbourne and Chris Godfrey.
Read More About