Widows Wear Stilettos, a support group for widows with a chapter in Bermuda, is backing an initiative aimed at highlighting the importance of having life insurance.
This month, Colonial Group International, the Bermuda Chapter of Widows Wear Stilettos, and law firm MJM will host a series of 'lunch and learn' events for individuals and businesses regarding life insurance.
Michelle Furqan, who founded Widows Wear Stilettos on the island, said, "This is such an important issue. It is very important to secure your family's future, especially if you have children.
"It is essential to make sure their future is secure, that the children continue to have a roof over their heads, and that big expenses like education can be covered. And, more importantly, if you have life insurance, do not neglect the payments."
Michelle Furqan and Jonathan Robinson, Sales Manager with Colonial Life Assurance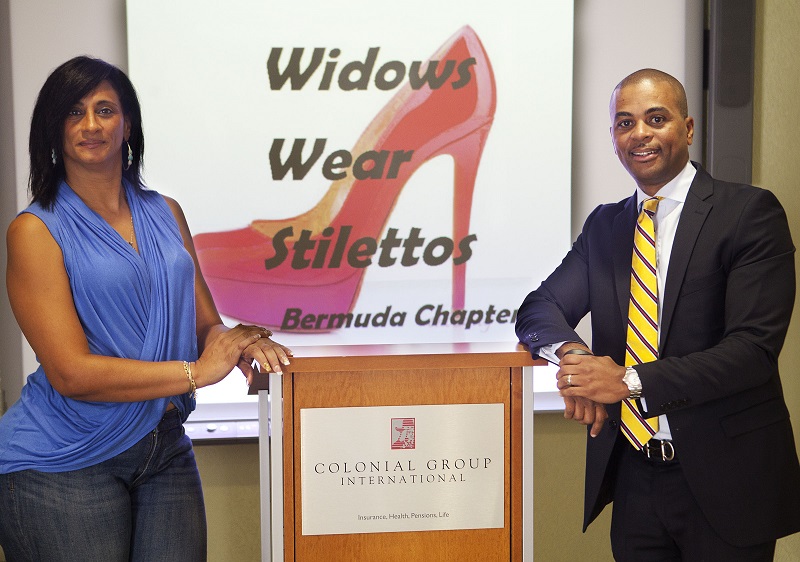 Widows Wear Stilettos Bermuda was launched earlier this year with the aim of providing educational events and giving encouragement to widows of all social backgrounds, ages, and race. It is open to anyone who has lost their significant partner.
In the United States, September has been declared Life Insurance Awareness Month [LIAM] and Jonathan Robinson, Sales Manager with Colonial Life Assurance, said he would like to see that repeated in Bermuda.
"It is a horrible experience to try and explain to a bereaved partner that there is no life insurance or that the policy has lapsed because payments are not up to date," said Mr Robinson.
"The law mandates that we have to insure our cars or bikes. But we make life insurance a choice for individuals who will often relegate it to the end of their list of things to do. Then one day, it is too late."
The events this month are all at the Chamber of Commerce headquarters in Hamilton. On September 11, the lunch and learn session will focus on 'Using Life Insurance to Aid in Business Continuity', while on September 18, it will focus on 'Managing Risk with our Income Using Life Insurance.' On September 25, the subject will be 'Estate Planning Using Life Insurance.'
All of the events start at 12.30pm and will last one hour. People can register by emailing Mia.Gibbons@Colonial.bm or by calling 278-2884.
Read More About