A car that was wrapped in plastic to help defend against Hurricane Gonzalo — with the photo of it becoming a hit on social media  – has come through the hurricane in picture perfect condition, with no scratches or debris.
Bernews posted a photo of the car on social media just prior to Gonzalo's arrival yesterday [Oct 17], and it gained over 1,000 likes, comments, shares and retweets, with numerous people commenting on the rather unique preparation method.
Some people thought it was good idea, others found it quite amusing, while some wondered if the method would work. That has now been answered, as the owner rather good-naturedly emailed us a photo saying that the car had no scratches or debris, and even responded to some of the wisecracks made by people online.
Car fully prepared for Gonzalo, having been wrapped in plastic and parked at Bulls Head: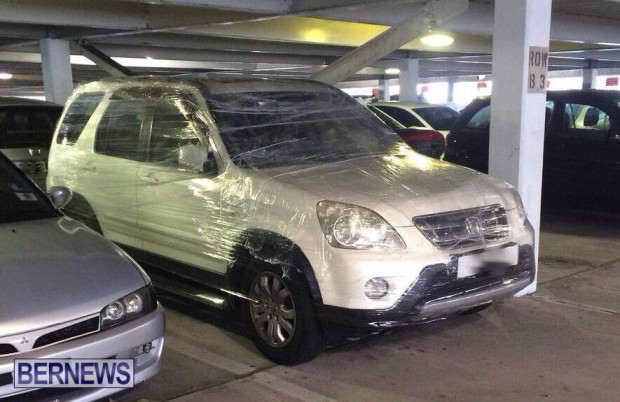 While many people thought it was saran wrap, the owner explained that the wrap is actually pallet wrap.
"Because the driving rain is mostly horizontal with a high salt content, it helps to prevent salt water entering the engine bay and interfering with the electronics," the car's owner explained. "An added benefit is I don't have to clean the car afterwards of salt spray and debris. Especially as I don't have power right now."
"It won't protect against any flying trees or the roof caving in, as some of the wise cracks mentioned, but I minimized that by selecting to park by the steel supports and using the staircase to block the wind direction."
The car in picture perfect condition following Gonzalo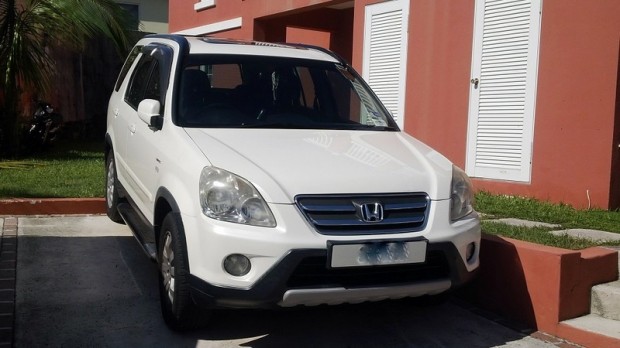 To follow our ongoing live blog covering Hurricane Gonzalo click here, for our post-storm photo gallery click here, and for all of our Hurricane Gonzalo coverage click here.
Read More About