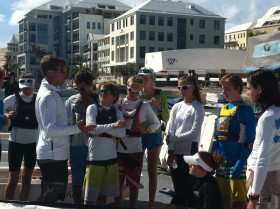 [Written by Laurie Fullerton] While the Renaissance Re Junior Gold Cup always offers opportunities for young people to have new experiences, coping with Hurricane Gonzalo offered the 14 competitors traveling from overseas to Bermuda a hurdle that strengthened their respect for this island nation.
Many of the 14 competitors spent layover time in either hotels or airports and some are now guests in homes without electricity. Yet, it all builds character and this week's storm certainly gave the young people an appreciation of what Bermudians are made of.
Along with the experience of being in Bermuda for the first time, the young international sailors spent a lot of time checking weather reports and watching the eye of the hurricane pass right over the island while waiting for rescheduled flights.
Now that they are in Bermuda, host families have done their very best to get the visitors settled but some are still without power. A few boats are still getting ready.
Interestingly, because electricity and Internet are not at full capacity, the youth sailors are spending a lot of time between practicing simply off the smartphone grid; talking, bonding and relaxing as they prepare for the coming race.
For Julia Szmit, 14, the first place Polish champion and 14th 2014 IODA European Champion, she noted that. "We don't really have natural disasters in Poland like hurricanes," Szmit said. "I did not really understand the danger of them because I have never experienced it." For Mateo de Maseo of St. John, US Virgin Islands and Rocco Falcone of Antigua, they are not unfamiliar with hurricanes and the destruction they bring.
"We had a tropical storm in Antigua and then we watched it turn into a hurricane and hit Bermuda" noted Falcone who was 50th in the IODA South American Championship and the younger brother of America's Cup sailor Shannon Falcone who sailed in the America's Cup for Team Oracle. "While the hurricane avoided us in the Virgin Islands, I was definitely watching it online," added Mateo di Maseo of St. John.
"We had a layover in New York City and were delayed for a day," added Payton Thompson of California who was 7th in the USA Team Trials and Placed 19th in the 2014 IODA European Championships. "I was checking the weather and my host family was telling me that the wind was up to 90 or 100 knots and the windows were bending. I was surprised when I got here to see so many trees down. I had thought that palm trees were stronger."
For Sweden's Kasper Nordenram who is the second place finisher at the Swedish Championships, he not only was delayed for two days in New York City waiting out Hurricane Gonzalo but he is staying with a family who does not have electricity at this time. An Argentinian competitor, Inaki Gurmindo who was the ninth in the Argentina World Selection trials, he was delayed in New York and is still waiting for his sail and rig that is at the airport in Atlanta, Georgia.
The sailors are here primarily to sail well and have a good time and in a sense the hurricane has taught them something already. According to Optimist Dinghy coach Robert Burns at the Royal Bermuda Yacht Club, the experience of Hurricane Gonzalo is truly a case of adversity training. " A lot of kids don't get these opportunities. I think it is a great thing for the island for them to see how many volunteers come to the club and help out."
"I was watching the weather all week and didn't know what I should pack or how it would go but they did such a great job cleaning up the island," said Hayden Sewell, 12, 7th overall in British National Championships in the Junior Fleet. "Now Hurricane Gonzalo is hitting Britain and the airports are closed. So, I am lucky to be here."
Read More About