Fans heading to the 2014 PGA Grand Slam of Golf are urged to take public transportation, the PGA of America said today.
David Charles, Senior Director of Championships for the PGA of America, said: "In light of increased demand for tickets this year we want to alert fans that wait times for shuttle buses from the parking venue to the golf course may be longer than usual.
"The fastest, most efficient way to get to and from Port Royal Golf Course next week will be public transportation."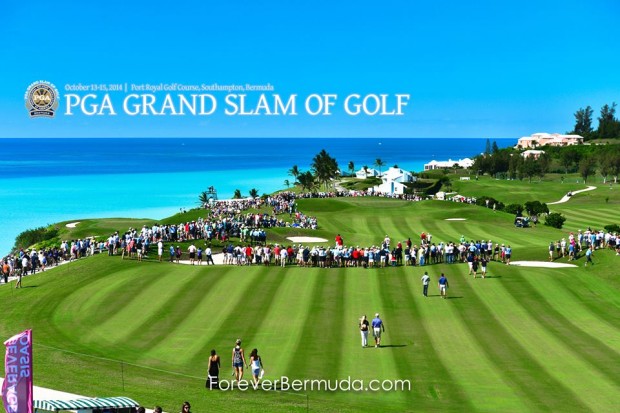 Public buses on the number 7 and 8 routes will drop off fans directly in front of the golf course, eliminating the need to take a shuttle bus from the parking venue.
White Hill Field is the car parking location for all three days of the Grand Slam, situated a few minutes west of Port Royal Golf Course.
Shuttle buses will run between White Hill and Port Royal during the following times:
Monday 9:15am – 6:30pm
Tuesday 8:45am – 6:00pm
Wednesday 8:15am – 6:00pm
Motorbike riders will be permitted to park at Death Valley, just footsteps from the entrance gate to the event.
The increased demand for Grand Slam tickets is a result of the PGA of America's first-of-its-kind complimentary ticket offer. The offer was made to island residents as a gesture of gratitude for eight successful years of Grand Slam tournaments in Bermuda. This year's event at Port Royal Golf Course will be the final Grand Slam of Golf in Bermuda.
October 10 (Friday) is the last day for residents to collect free tickets at the pro shops of Port Royal and Turtle Hill Golf Courses.
The PGA Grand Slam of Golf takes place October 13th to October 15th, featuring four Major champions – Bubba Watson (Masters), Martin Kaymer (U.S. Open), Rory McIlroy (PGA and Open Championships) and Jim Furyk (2008 Grand Slam Champion). Furyk completes the foursome as an alternate from the Major Champions Point List because McIlroy won two Major championships this year.
The Grand Slam is broadcast to a worldwide audience on TNT and is hosted by the Bermuda Tourism Authority, Port Royal Golf Course and the Fairmont Southampton.
Ticket-carrying fans are allowed to get closer to the pros at the Grand Slam than at any other competitive golf tournament.  Because there is only one group during the event spectators are permitted to follow the players down the fairways of every hole – standing just a few feet from the action in some cases.
The PGA Grand Slam of Golf features a $1.35 million purse, with the winner receiving $600,000; second place $300,000; third place $250,000 and fourth place $200,000
Read More About