While Hurricane Gonzalo did cause widespread power outages and island-wide damage, including to the Causeway, the storm thankfully did not cause any reported loss of life or major injuries, the police confirmed.
Clean up has begun across the island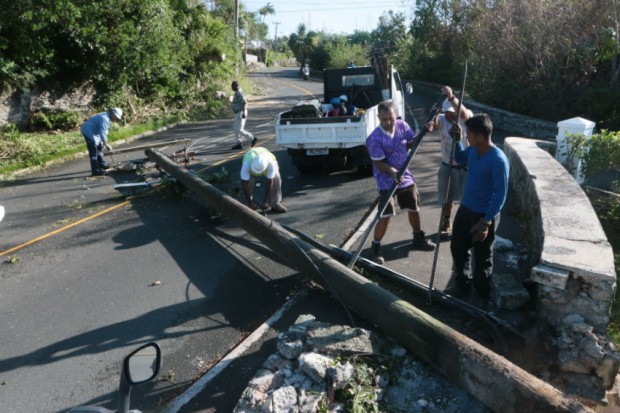 While loss of power affected 30,700 customers at one point, BELCO has reported that it has restored service to 3,925 customers as of 11.30am today [Oct 18].
As of 11.00am, the National Hurricane Center [NHC] has reported that Hurricane Gonzalo is 355 miles NNE of Bermuda, traveling at 25 mph with sustained winds of 90 mph as it travels towards the Canadian province of Newfoundland, where a Tropical Storm Warning is now in effect.
A linesman works to repair damage caused by the storm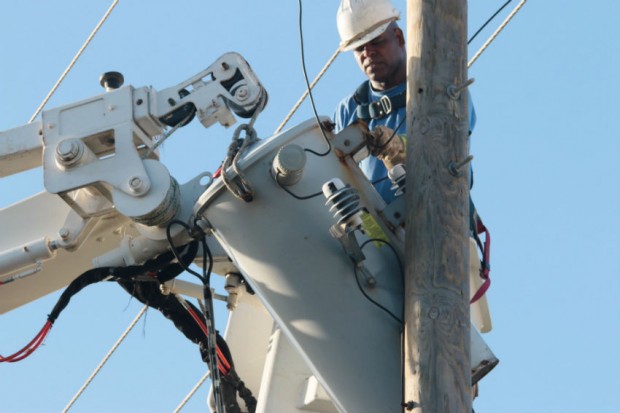 To follow our ongoing live blog covering Hurricane Gonzalo, click here. To see the results of the storm across the island, click here for our Gonzalo photo gallery. To stay up to date on BELCO's progress in restoring services, click here. For all of our Hurricane Gonzalo coverage, click here.
Read More About
Category: All