Gibbons Company and the Bermuda Society of Arts [BSOA] hosted the opening reception for the Gibbons Passion in Art on Friday [Oct 3], with the two entities combining to showcase some of the island's talented artists.
16 artists were given Gibbons Store windows to showcase their work, and the artist's pieces can be viewed in Gibbons Company, The Home Store, Nine West and 25 Reid, where each window displays the names of the featured artist and the price of the art. Some artwork will also be located in the store.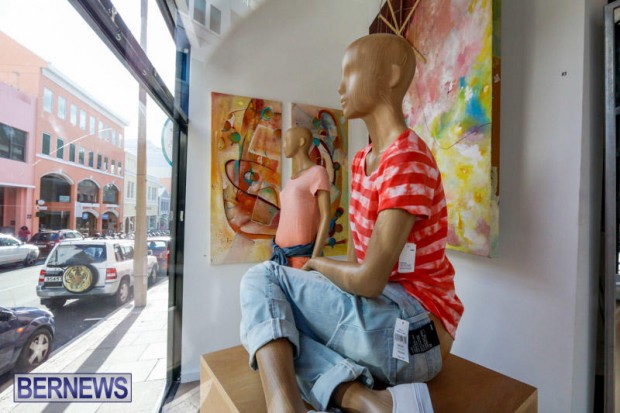 The local artists featured in the second biennial are Kamela Wade, Gavin Smith, Ami Zanders, Deondre Cumberbatch, Nicky Gurret, Erika Mattatall, Charann Woolridge, Corrina Rego, Langre Edwards, Khalid Muhammed, Bryce Pantry, Chis Chiappa, Paul Doughty, Lee Greene, Elca Maranza and Jerome Stovell.
Speaking at the reception, Gibbons Company CEO Paula Clarke said, "Gibbons Company is really happy to present the 2nd Passion & Fashion in Art Exhibit. This whole exercise is geared towards the local artists, and The Gibbons Company have given up their windows display areas in both Reid Streets and Front Streets in our 25 Reid, Nine West and main stores as well as Church Street in our home store.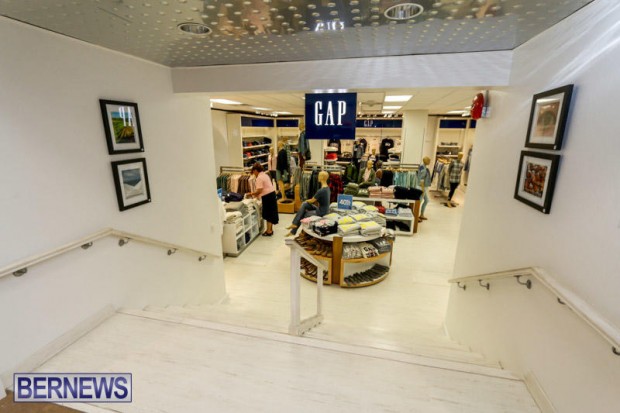 Ms. Clarke continued, "So this is a wonderful opportunity to allow the artists to show their work, and for the public to enjoy the incredible talent that we have here in Bermuda.
"What's more is that the Bermuda Society of Arts are actually sponsoring it, and managing it for us, and all of these beautiful pieces of art and wonderful pieces are actually for sale and can be bought through the Bermuda Society of Art.
"Behind me, you'll see some of the artists who have created this incredible work. They're here this evening to celebrate with a little reception. We're hoping that people will come into Hamilton, and look at these fine pieces and can interact with the artists and hopefully encourage them in their future endeavors.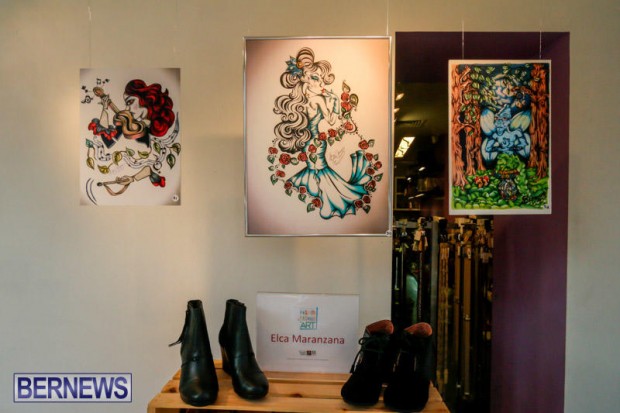 "Gibbons Company wants to support and sponsor these local artists and encourage them to continue in their field, and we want to thank the Bermuda Society of Arts for sponsoring us and your support and all the artists for coming here.
"We have a wonderful brochure that is available and a catalog of all their works with the prices. So people can come an enjoy it, and we welcome them. It's going to be on show through the month of October, and that gives everybody a great opportunity to see what's available," added Ms. Clarke.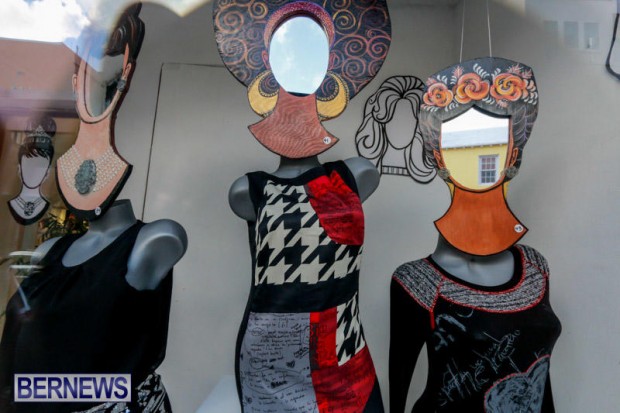 Acting Director of the BSoA, Nzingha Ming said, "This has been an ongoing project since March, getting this together. We've called on sixteen of our local Bermuda artists to showcase exhibit their work in Gibbons windows.
"It was an amazing opportunity, they've all been patient and they've excelled at what they've been showing. We encourage you all to come down, purchase. You contact us at the Bermuda Society of Arts, we'll take care of the sales. So we're really excited for this collaboration."
Corrina Rego, one of the featured artists, said, "It's a great opportunity to get our art out of the gallery and a bit more in the public eye, and it allows us to show the diversity of all the art that we do.
"I think each window is very different from the next, and it also works with the merchandise that's there. I think that was a really good opportunity for everybody. Just come on by and see the different art that we've created," added Ms. Rego.
Members of the public who are interested in purchasing a piece of art by the artists exhibited in The Gibbons Passion & Fashion In Art Show can contact the BSOA, as all art will be for sale through the BSOA.
Click to enlarge photos:
Read More About