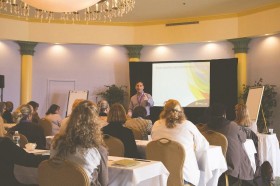 The Centre on Philanthropy announced that their our 5th Biennial Third Sector Conference to be held at The Fairmont Hamilton Princess on February 26th and 27th, 2016.
A spokesperson said, "The Conference previously scheduled for 2015, as it is held every two years, had to be rescheduled due to the renovations being carried out at The Fairmont Hamilton. We are very pleased to return the conference to this excellent and purposeful venue in 2016.
"The Third Sector Conference has been hosted by The Centre on Philanthropy since 2007 and allows Bermuda's Charities, Non-profits, Donors, Board and Committee Members, Social Entrepreneurs, the Faith-based Community and Volunteers to learn, network and collaborate on the common issues that face the Sector.
"Highly qualified professionals from within the sector, both Bermudian and from overseas are invited to speak/present, meet and collaborate with our community stakeholders.
"The Conference is themed to address the overriding issues of the day and past themes have included: 2013 'Together We Can' – 2011 'Changing Our World' – 2009 'The Power of One' – 2007 'Giving in Partnership'. The Centre on Philanthropy will be reaching out to its members very shortly to obtain their feedback on the theme for 2016 as well as what topics and speakers that they may recommend.
"The Centre on Philanthropy believes in a Bermuda where effective and efficient charities and non-profit organizations are equipped and skilled to serve the social needs of our community. With almost 400 registered charities and millions of dollars and hours donated to the charitable sector annually, Bermuda must depend upon our collective ability to pursue a common vision and our individual commitment to improving our organisations and the Third Sector as a whole.
"Through generous financial support, donations and volunteers, The Centre on Philanthropy is able to keep the Third Sector Conference affordable, especially when compared to the cost of travelling overseas to a similar event."
Elaine Butterfield, Executive Director, the Centre on Philanthropy, goes on to explain, 'There are distinct advantages to holding our own conference here in Bermuda.
"Cost is essential, but additionally, the opportunity to gather as a group to share and learn from each other's experiences and collaborate on the issues is priceless. The Third Sector Conference is two days of education and inspiration that helps shape the way the sector moves forward. '
"There can be no doubt that Bermuda faces unprecedented challenges, across all sectors of the community. There can also be no doubt that the Third Sector has an important role to play… by working together, with Government and the private sector, we can get more done and be more effective at it."
Read More About
Category: All