Lydia — a 2000lb 14ft 6in great white shark — recently passed in the vicinity of Bermuda, according to a tracking system run by the non-profit organization ocean research group OCEARCH.
Lydia, who has passed by Bermuda's waters before, traveled from the east coast of the USA, making her way to the general outskirts of Bermuda's waters, before making a northerly turn. She has traveled approximately 840 miles in the past 19 days, including a spurt which saw her move some 210 miles in only 72 hours.
Lydia's recent travels according to the tracking website: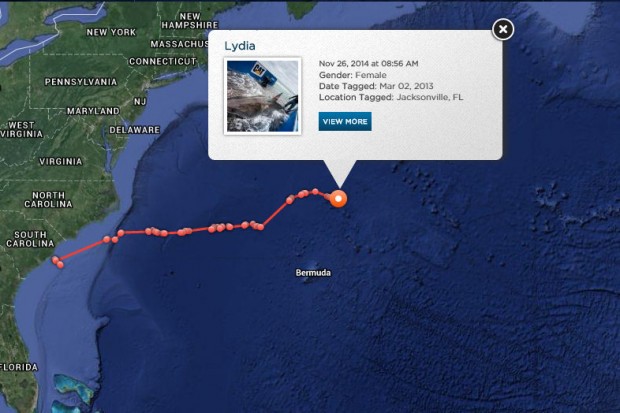 Lydia was traveling in a easterly direction until she veered off recently to head northeast and Peter Gaube, a postdoctoral fellow at Woods Hole Oceanographic Institution, suggested this could be due to a region populated with large Gulf Stream eddies.
In a post on his blog, Mr Gaube said, "There has been lots of excitement recently about Lydia, an approximately 2,000 lbs. white shark, and her recent eastward movement offshore towards a region populated with large Gulf Stream eddies.
File photo of Lydia courtesy of OCEARCH: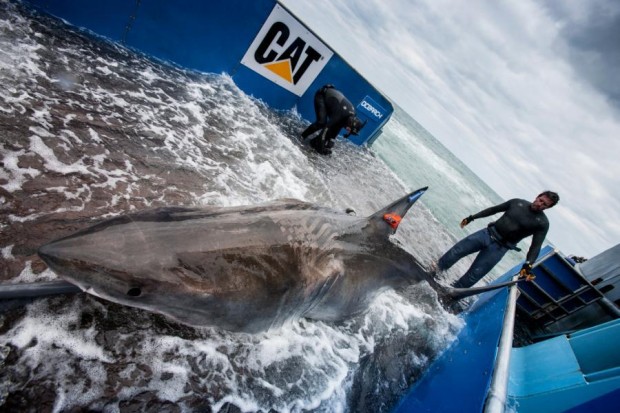 "Until yesterday, Lydia was moving mostly due east. But now, she has taken a sudden turn north. To investigate if her change in course could be cued by the presence of a particular eddy, I overlaid her track on a map of near-real time SSH.
"Sure enough, her turn to the north puts her in the region of a large anticyclonic [clockwise rotation] eddy or meander, characterized by warm water low in chlorophyll [algae]," added Mr Gaube.
Video of Lydia being tagged:
Read More About
Category: All, Environment, News