The Bermuda Taekwondo Association through their leader Master Richard A. Smith was once again invited to compete in Louisville, Kentucky at the 28th Annual HMA US Open Tae Kwon Do Championship which was hosted by Grandmaster Jung Oh Hwang. This years Championship attracted approximately 900 competitors with just as many spectators.
7 members of the Bermuda Taekwondo Association along with family members accompanied Master Smith and Senior Instructor Laurie Zuill to this event which was held on Saturday, October 18th, 2008. The competition events were Board Breaking, Forms, Sparring [fighting] and Weapons [Black Belt only].
Despite hearing that Hurricane Gonzalo had battered the Island the night before, all of the Bermuda competitors did extremely well in their individual events and enjoyed the competition.
Black belt competitor Philip 'PJ' Smith led the group with a weapons form that won him first place and a chance to win the Grand Champion trophy in weapons. Unfortunately he lost out to another Competitor by 1 point.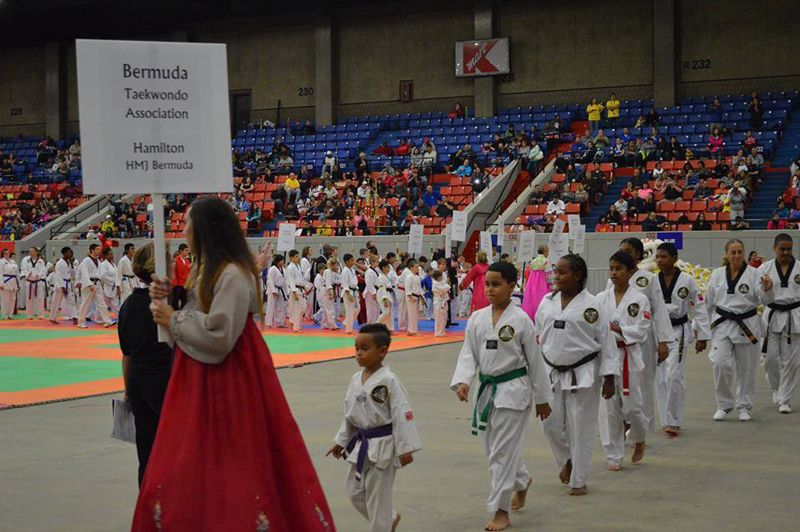 Black belt competitor Kofi Dill turned in a first place in forms and also had an opportunity to win the Grand Champion trophy in forms but also missed it by a narrow margin. PJ and Kofi in true sportsmanship were happy with their performances and congratulated the winners.
Red belt competitor Reza Suhartono, in his first appearance to this competition, managed to achieve first places in all his events. This was very exciting for Reza since his Mom was there to see his performance.
Junior brown belt competitors Aiyana Smith, in her first appearance to this competition, found the going a little more difficult than expected and managed to achieve a first place, a second place and a third place. She promised her Mom and Grandma who attend the competition that next year she will do better.
Green belt competitor Yanayah Dillas managed to achieve all first places in her events. This was quite an achievement since that was also her first appearance to this competition. Her Mom was very excited with her daughter's results and hopes to return to next year's event.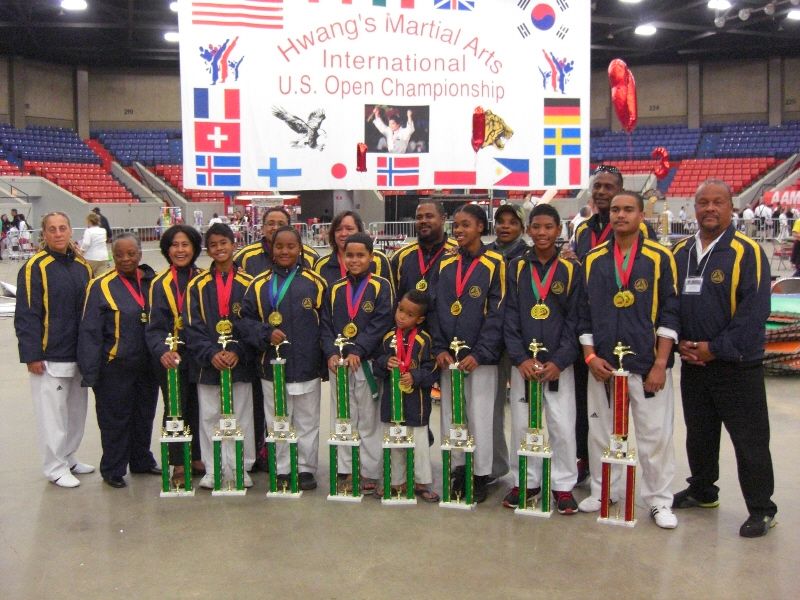 Junior green belt competitor Michaelangelo Smith along with his brother, junior purple belt DaeJon Smith, who was the youngest competitor from Bermuda at 6 years old, put in a great performance. They were supported by their whole family consisting of Mom and Dad, Grands and Great Grands.
Except for Michaelangelo losing his match in sparring, the rest of their results were first places. This was their second time attending the competition, and from what can be gathered, not their last.
Master Smith, who has been attending this competition for the last 12 years, was very proud of all of his students on their performance and how they presented themselves as representatives of Bermuda.
Grandmaster Hwang has once again extended a personal invitation to Master Smith and his school to travel with his school on their next culture trip which should hopefully take place in the next 2 years.
Overall the competition was a huge success and all of the competitors and their families enjoyed the spirit of the whole day. Master Smith expressed the concerns the Bermuda group had with regards to the damage to the Island from the two storms and everyone in Louisville wished the group safe travels. The group managed to return to Bermuda a day late due to the closure of the airport.
Read More About