The Bermuda Tourism Authority [BTA] released their latest quarterly report and said they are "launching a fresh marketing strategy this month, the first major creative shift in Bermuda's positioning since the BTA was formed earlier this year.
A statement from the BTA said, "The new approach focuses on experiential travel – telling rich, authentic stories about Bermuda across multiple platforms and mediums.
"The BTA is leveraging partnerships with media outlets, industry partners and influencers on-island and off to develop high-quality content across video, photo, print, social and digital channels.
Latest visitor numbers released by the BTA, click to enlarge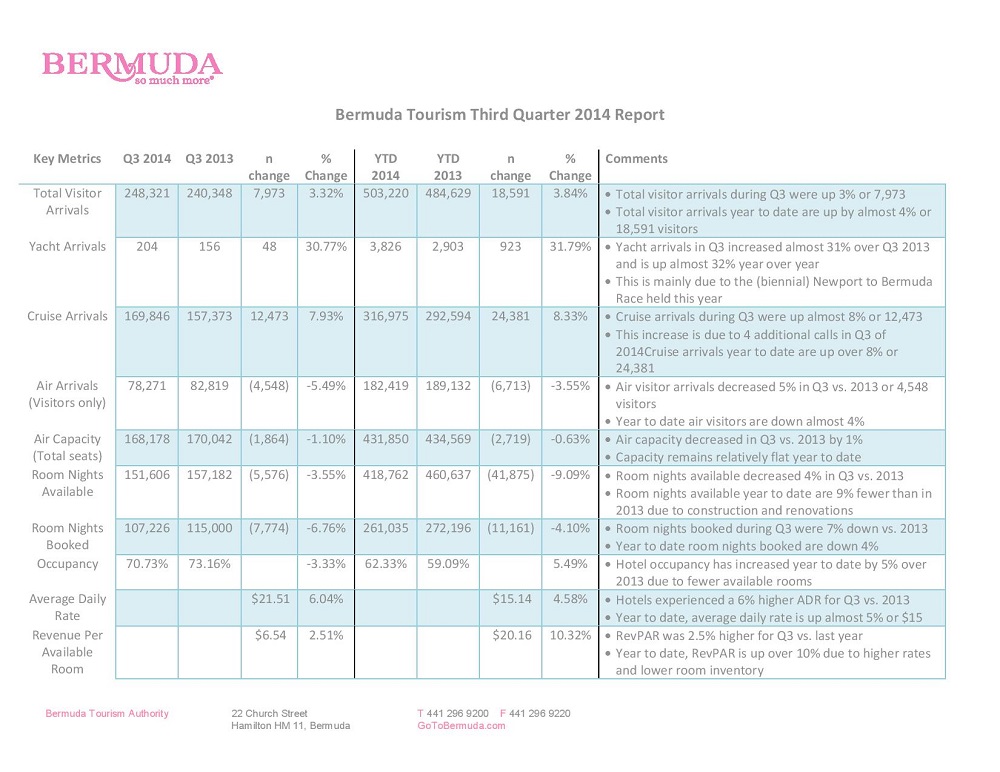 "The island and her people embody a signature confluence of cultures, where British charm mingles with island soul to create experiences that are distinctly Bermuda. The new strategy is based on that idea, and is tied to a larger content-centric approach the BTA is using to promote Bermuda.
"We are leveraging many partnerships and multiple channels to get in the hearts and minds of travelers, make those emotional connections, and inspire them to make Bermuda their next trip. This is just the beginning of sharing the many stories of Bermuda with a new generation of intrepid travelers."
"New marketing efforts will rely more heavily on visual channels; and traditional advertising is being supplemented by influencer programming, using both on- and off-island individuals.
These large scale banners alongside the Long Island Expressway in New York City are an example of the BTA's new marketing strategy which includes a mix of print, digital, social, video and outdoor media. The images featured on the banners were taken by a Bermuda photographer.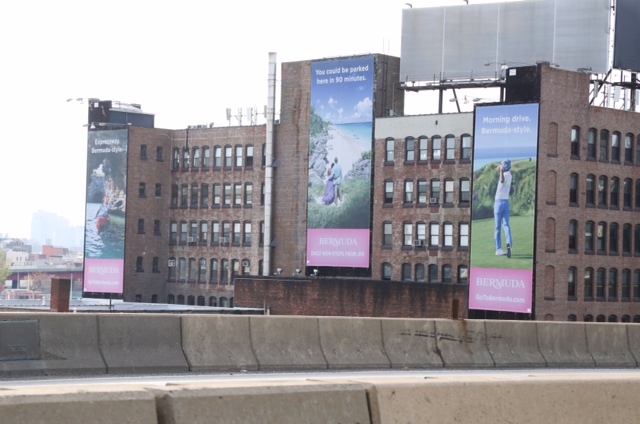 "Initiatives include a mix of digital and print channels, targeting consumers at every stage of their decision-making journey – from dreaming, planning, booking, visiting and sharing their experiences.
"A few examples include pairing Instagram influencers with Travel + Leisure media channels, leveraging local tastemakers in print and video content from Afar media and teaming up with google and youtube for fresh multi-channel network video storytelling through Tastemade.
"Tastemade is excited to work with the Bermuda Tourism Authority on creating engaging content that brings the amazing locales and spectacular, authentic cuisine of the island to tastemakers around the globe," noted Oren J. Katzeff, Head of Programming at Tastemade.
"We're excited about making bold changes to the way we promote Bermuda," notes Bill Hanbury, CEO of the Bermuda Tourism Authority. "Bermuda was in a rut of doing the same thing over and over; we knew the island needed a fresh approach to drive year-round visitation in such a competitive global environment."
"This strategy is truly inspired by Bermuda — the island is incredibly rich with stunning settings, authentic experiences and great storytellers," said Victoria Isley, the Authority's Chief Sales & Marketing Officer.
Media partnerships are running nationally in North America, with an emphasis on key customer segments and geographic markets with direct flights including New York and Boston. The images and videos created in the campaign will be the property of the authority, available for use in future marketing efforts.
The full BTA Quarterly Report October 2014 is below [PDF here]
Read More About