The Bermuda High School [BHS] has received accreditation by the Council of International Schools, with immediate effect.
BHS said they join "over 400 schools worldwide, including Pearson College UWC in Canada, United Nations International School in the United States, the American School in London, Tokyo International School and the International School of Paris."
Schools that are CIS accredited have demonstrated their dedication to providing a high quality education in an international context. They demonstrate a commitment to inspiring excellence in their students as well as developing the whole individual.
They also foster – and model – self-evaluation and self-improvement. Colleges and universities worldwide acknowledge that CIS Accredited schools develop the standards and the qualities they seek in their students.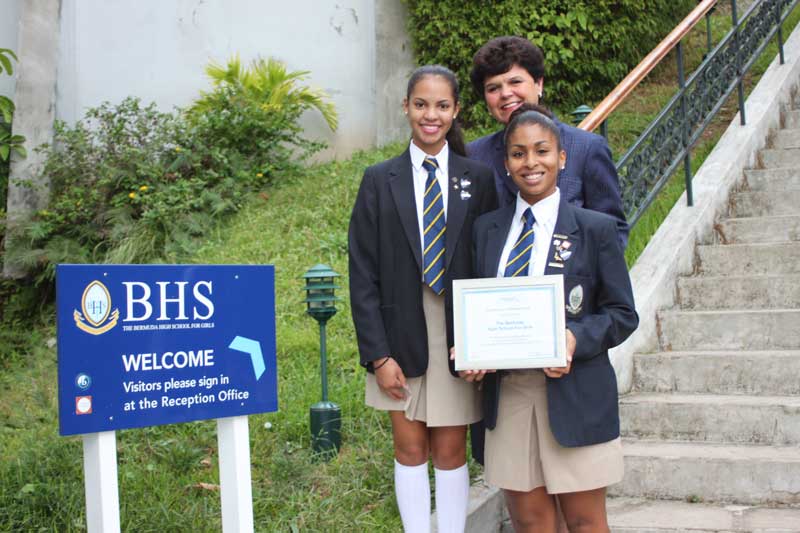 To achieve accreditation, a school must meet stringent requirements and undergo a lengthy and in-depth process. During this process, a school's Guiding Statements, teaching and learning, governance, faculty, operational systems and partnerships with stakeholders are rigorously evaluated.
In his congratulatory letter to the school's management team, Dr. Graham Ranger [Director of School Support & Evaluation with the Council of International Schools] commented, "In the classroom, the Visiting Team noted the level of commitment among the faculty and staff to the students, highlighted by a strong sense of pride and accomplishment that is palpable at BHS."
He also stated "the poise and confidence the girls of all age groups underscore the successful implementation of the mission of the school."
Head of School Linda Parker said, "I have always believed that we offer a world-class education at BHS, which provides students with the knowledge, skills and opportunities to develop into confident, responsible, global citizens.
"To have this validated by the Council of International Schools is further proof that we are fulfilling our mission and vision to be the best school in Bermuda for girls in Years 1-11 and for all of our students in the co-educational International Baccalaureate Diploma Programme."
Chairman of the Board of Trustees, Joel Schaefer, commended the Staff at BHS, saying "Linda Parker, her team and the faculty have been steadfast in their commitment to the self-evaluation and hard work required by this process, which has taken over two years.
"Earning this accreditation places BHS firmly among the ranks of leading international schools around the world. The Board of Trustees congratulates the School and will continue to support the leadership team in perpetuating its record of excellence."
Read More About
Category: All