[Updated] Graffiti has been seen on the polling station ahead of tomorrow's [Nov 18] bye-election in Constituency #33 Sandys South, with the writing saying, "If my people who are called by my name shall humble themselves and pray."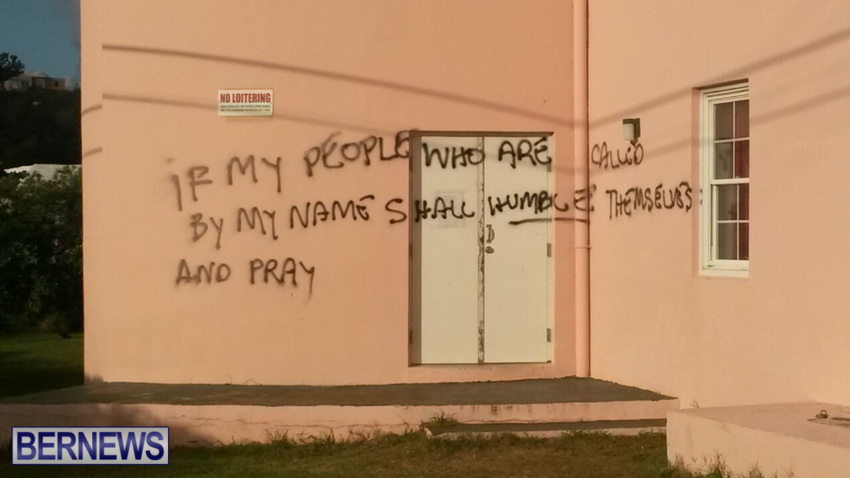 The bye-election will see the OBA represented by Georgia Marshall and the PLP represented by Jamahl Simmons, and follows the resignation of Terry Lister, who announced on September 23 that he will be retiring from politics. The bye-election will take place tomorrow at the Somers Isles Lodge in Sandys from 8am – 8pm.
Update 11.59am: PLP candidate Jamahl Simmons said, "The desecration of what has become a virtual community centre for the people of Sandys South is unacceptable and has no place in our society. Despite the apparent positive message that was seemingly intended by the graffiti writer, there are better ways to express ourselves and put forth our views."
"It is easy in light of the recent incidents of gun violence and a renewed focus on our troubled youth, to point the fingers at them and in a knee jerk fashion blame them for this act of vandalism. In the current political climate we should be cautious about jumping to conclusions and allow a proper investigation to take its course."
"We pledge to work with the Somers Isles Lodge and the Bermuda Police Service to identify the perpetrators of this act and identify solutions that we can take to prevent a repeat occurrence. We further thank the members of Somers Isles Lodge for their swift removal of the graffiti," Mr. Simmons concluded.
OBA candidate Georgia Marshall's official introduction last month:
PLP candidate Jamahl Simmons' official introduction last month:
Read More About