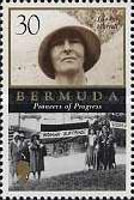 The Peace and Social Justice Committee of the Roman Catholic Church of Bermuda is hosting its 5th Peace and Social Justice Award ceremony, on Friday, November 14, 2014, at St. Theresa's Church hall.
This year's awardee [posthumously] is Gladys Missick Morrell, leader and heroine of the suffragette movement known as the Bermuda Women's Suffrage Society [BWSS]; which, after a 21-year-old fight, won the right for women in Bermuda to vote.
The Roman Catholic Church, Peace and Social Justice Committee criteria for selection is that awardees must have been a member of the Roman Catholic Church of Bermuda or a resident of the Bermuda Community at large and must have demonstrated a commitment to some specific area of social justice and/or peacekeeping in our island community that reflects and exemplifies those teaching in the Compendium of The Social Doctrine of The Church, from the Pontifical Council for Justice and Peace of the Roman Catholic Church worldwide. The award can be given posthumously.
At the event ceremony granddaughter, Kathy Bromby, will give a presentation and slide show and will display relics from this historic time. At the end of the event family members will receive a certificate on behalf of Mrs. Morrell and this awardee's name will be added to the Peace and Social Justice Committee Award Plaque, displayed in the cathedral church.
The first recipient for this award was Dr. Barbara Ball in 2008; followed by the Progressive Group in 2009; Dr. Dorothy Thompson in 2010; Monsignor Filipe Macedo in 2012 and now, Gladys Missick Morrell in 2014.
The night will begins with a light supper at 7:00pm followed by the event commencing at 7:30pm.
Read More About