Morgan's Point Ltd. — the company developing the hotel at Morgan's Point in Southampton — announced that it has received a commitment in financing from Bermuda-based international re/insurer Arch Capital Group Ltd. towards the cost of the first phase of the project.
Arch's investment, with an initial tranche of $5 million, represents lead financing from a group of other Bermuda international insurance and reinsurance companies who have expressed their interest in a similar agreement, the company said this evening.
Arch's Preston Hutchings and Morgan's Point CEO Craig Christensen. Photo by Ann Spurling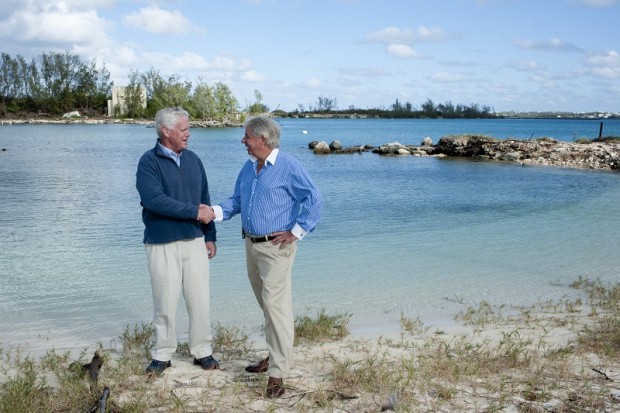 Preston Hutchings, Senior Vice President and Chief Investment Officer of Arch, said: "We are pleased to invest in the first phase of the Morgan's Point development.
"This is a project that is important to Bermuda's residents and businesses: its success will benefit both our shareholders and our employees. Once the project's plans are fully prepared, submitted and approved, we expect to be in a position to expand our commitment."
"We extend our sincere appreciation to Arch for embracing the vision we have for Morgan's Point," said Morgan's Point CEO and President Craig Christensen.
"Arch's support for a new, luxury tourism product underscores their belief in Bermuda's future and their willingness to invest in our community."
Mr. Christensen noted that information regarding other insurers and reinsurers who will be investing in Morgan's Point will be made public before year end.
Full plans, together with an environmental impact statement, have been developed by lead architectural firm Cooper Gardner working with SB Architects, an award-winning US-based firm that specializes in the design of hotels, resorts and destination resort communities.
Mr. Christensen said that it's expected that plans will be ready for submission to the Department of Planning early next year, adding that full construction will commence once planning approval has been received.
Earlier this year, Minister of Public Works Patricia Gordon-Pamplin said that Morgan's Point intends to construct two hotels, a boutique hotel in phase 1 consisting of 235 units and a luxury hotel with 416 keys in a later phase.
Read More About