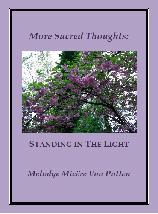 Melodye Micëre Van Putten, has released her fifth collection of poetry entitled, More Sacred Thoughts: Standing in The Light.
Published by Kephra Publication this collection of poetic offerings explores jife as a vehicle for goodness found in nature, expressions of love, purpose, identity and gratitude.
An international education consultant, Van Putten has delivered her poetic reflections nationally and internationally at academic conferences and cultural events in the United States, Bermuda, The Bahamas, South Africa and Tanzania.
More Sacred Thoughts: Standing in The Light is the companion book to Sacred Thoughts: God Is The Light . . . and The Light Is All there Is, the award-winning finalist in the 2013 USA Best Books Awards for Prayers and Devotions.
Affirmatively review by Dr. Nontombi Naomi Tutu, daughter of Archbishop Desmond Tutu, she writes, Sacred Thoughts "is the kind of book you want to carry with you at all times. The poems serve to inspire, to comfort, to encourage."
Brown & Co.'s Bookmart will host Mrs. Van Putten on Saturday, November 15th for a book signing from 1:00 to 3:00 pm.
The Bermuda National Library will host Mrs. Van Putten for a poetry reading and book signing of her new book on Thursday, 20th of November 2014 from 6:30 to 8:30 pm. In additional to a healthy serving of poetry from all of her books, light refreshments will also be served. It is free and open to the public and all of her titles will be available for purchase.
Read More About
Category: All, Entertainment