[Written by Kristen Taylor]
"The best way to find yourself is to lose yourself in the service of others" [Mahatma Gandhi].
Over 40 volunteers knew this to be true on December 12th and 13th as they gave their time, support and muscles to hardworking families at the Cornerstone Foundation's Christmas Store.
Over 40 volunteers went out and purchased groceries, toys and iTunes cards locally for shoppers to purchase at drastically reduced prices, gave out treats and goodies at the door to welcome shoppers, carried bags of groceries and gifts to vehicles and gave shoppers an overall warm and cheerful evening.
Mary Samuels, Vice-President of Cornerstone Foundation and Coordinator of the Christmas Store said of one shopper; "[she] broke down in tears when she won the $100 Belco voucher. She didn't want to leave because she felt so welcomed and encouraged at the store."
This past week saw 120 of the 147 families invited to participate in the Christmas Store, take advantage of the great deals and wonderful atmosphere. Volunteers treated their customers to a personal shopper experience, helping them to pick out and purchase items with an average of 4 bags of groceries purchased per customer.
Items purchased ranged from fresh fruit and dried goods to diapers, the latest toys and games, like Fifa 15, and ranged in price from $20-$35 for the total purchase per family. Volunteers also set up the store, arranging the products in an attractive manner, re-stocked shelves as purchases were made, drove customers to and from the Store, packed bags, and packed everything up at the end of the evening.
A prayer centre was provided and Gary Simons and Tyaneil Darrell shared the Gospel with a rope trick.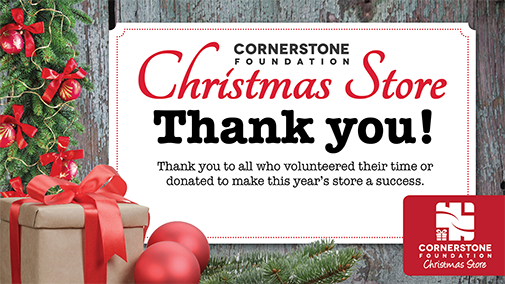 When speaking of the volunteers, Mary Samuels says, "The store was such a success. We had a volunteer's dinner after shop hours and many volunteers shared their personal experiences interacting with many of the shoppers…
We were all so impressed with the service from our young people…they did a fabulous job interacting with the shoppers as their personal shopper, carrying bags and boxes and really serving in a very sacrificial way!"
Caleb Lowe, one of the teen volunteers who served as a personal shopper, said of his experience, "This Christmas Store enables people to feel good about spending their money. In my experience, people are just so thankful for a store like this."
Speaking of the response from shoppers about their experience at the Store, Caleb said, "The amount of times I heard 'thank you', it showed me what a difference this store made for people…showed me no matter what situation you are in, be thankful for what you have."
Many local businesses, such as Belco, Butterfield and Vallis, The Phoenix Stores, and Royal Imports, as well as other corporate and individual donors supported the Christmas Store with gift vouchers and donations that provided the raffle prizes and discounted items for purchase. The Christmas Store also made local purchases of items for the Store, supporting local businesses island-wide.
Mary Samuels spoke of the motive behind the Cornerstone Foundation Christmas Store in this way: "It truly is an amazing concept to see people so encouraged and uplifted. We only have to think back to how we felt when we got a great deal…doesn't it empower you? That is the purpose of the store…to combat discouragement through a hand up rather than a hand out!"
All proceeds from the Store were donated to Cedarbridge Academy and The Berkeley Institute's Breakfast Programs, providing students with a healthy breakfast every school day.
The Cornerstone Foundation would like to thank all volunteers and sponsors for making this Christmas Store the best one yet. The Cornerstone Foundation would also like to thank West Hamilton Limited for the donation of space free of charge to house the Christmas Store this year.
Read More About