Yesterday [Dec 29] marked the first round of the 32nd Annual Aon Benfield Fecchio Cup hosted by the Port Royal Golf Course.
"Port Royal Golf Course is in great shape for which we give Dennis Pilgrim and his team on the grounds staff a huge thank you. With the weather conditions expected to worsen tomorrow, the players were keen to get a solid score under their belts in the first round," a spokesperson said.
"The first group out saw the lowest round of the day – Kenny Leseur turned in his lowest tournament score ever, firing a spectacular round of 74. You will have been reading Kenny's name for a number of years now so it may be hard to believe that he is still only 10 years old! Joe Watson and Alex Withers-Clarke will be battling it out for second after rounds of 93 and 94, respectively.
"Tyler Emery (103), Vanessa Chychrun (110) both got off to rough starts and along with Ethan Sousa (130) can still catch the boys in the race for second but will need to make up some ground in round 2.
"In the 16 – 18 division Walker Campbell is making the most of his Christmas vacation at home, leading the way with a 4-over round of 75. Defending champion Sam Wehmeyer started with four straight bogeys and could not get any rhythm in this game, coming in with an 84. Elizabeth Parsons also struggled to get out of the gates with a quadruple, a triple and a double bogey on her front nine card; she steadied herself to be two back of Sam with an 86.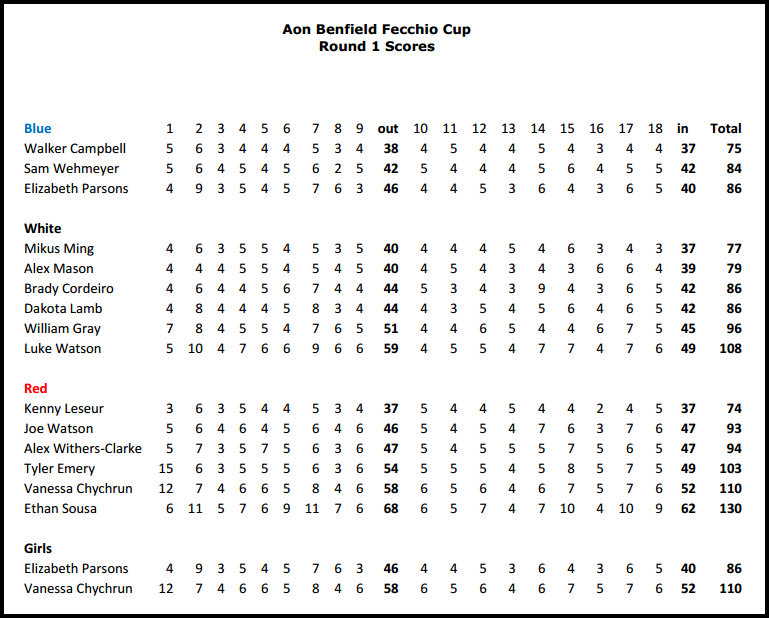 "Elizabeth's 86 was enough to see her take the lead in the girls' division. In second place is visitor to the island Vanessa Chychrun who got round in 110 in her first ever BJGA event.
"For the second year running Mikus Ming leads the way after round one in the 13 – 15 division. Similar to Walker, Mikus is home from school over Christmas and is looking to make the most of his break after an opening round of 77. Alex Mason exceeded his expectation for the round by putting together a round of 79 after taking a short break from the game.
"Dakota Lamb and Brady Cordeiro have some work to do in round two to get back into the running after rounds of 86 for the pair. William Gray (96) and Luke Watson (108) round out the division.
"The weather will be the main factor today with the BJGA organisers hopeful that the winds will subside just enough to keep Port Royal playable and give the juniors a good test of golf and their patience.
"If the more exposed areas of the course are unplayable, the back-up plan for the organisers is to play three loops of the first six holes."
Tee Times – Round 2 – Tuesday 30 December:
9:00 – William Gray, Dakota Lamb, Luke Watson
9:10 – Alex Mason, Brady Cordeiro, Mikus Ming
9:20 – Walker Campbell, Sam Wehmeyer, Elizabeth Parsons
9:30 – Tyler Emery, Joe Watson, Ethan Sousa
9:40 – Alex Withers-Clarke, Kenny Leseur, Vanessa Chychrun
Read More About