BIFF has secured the Oscar-nominated screenwriter of Dallas Buyers Club, Craig Borten, for a special film workshop event "The Write Stuff", to take place during the 2015 Bermuda International Film Festival.
Craig Borten will be joined in presenting the workshop by seasoned screenwriter, James V. Hart whose writing credits include Hook directed by Steven Spielberg, Bram Stoker's Dracula and Mary Shelley's Frankenstein; Naomi McDougall Jones, award-winning writer, actress and producer based in New York; and Bermudian filmmaker, Lucinda Spurling, whose work has been shown at film festivals and on numerous television networks around the world.
Craig Borten on left, James V. Hart on right: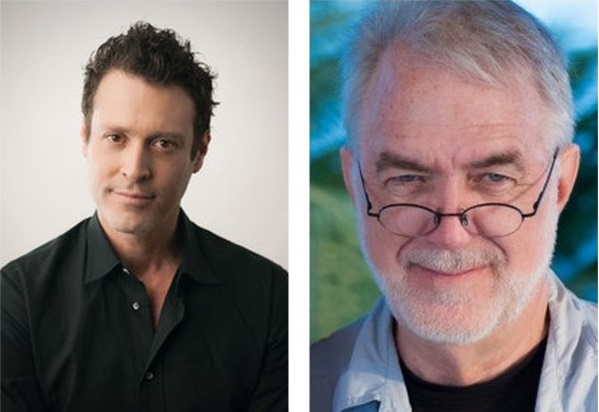 The workshop will be structured as follows:
Session 1: "More than money talks"
Both Naomi and Lucinda will talk about the challenges and freedom of writing a screenplay when you do not have the resources of Hollywood at your disposal and the next steps once the all-important final draft is complete. They will also speak to how their respective background in theatre and documentary helped them in their screenwriting journeys.
Session 2: "Deconstructing the script"
Join Craig as he discusses the process of creating memorable scripts. Craig will talk about collaborating with the director, how source material can be used and the elements to building a striking protagonist. This presentation will be brought to life with insights from Craig's recent experience creating the much-celebrated Dallas Buyers Club, which scooped three Oscars in 2014
Session 3: "The Hart of storytelling"
James will explore how to better develop characters and stories by getting to the heart of the script. Using notable films as examples, he will explain how to establish main character desires, their progress toward their goal and how to create a successful resolution. Learn to embrace structure and how to flesh out ideas for the big screen.
Joined by Craig, he will also apply his unique approach, the "Hart Chart," to deconstruct the Academy award-winning Dallas Buyers Club.
The workshop will be held at the Bermuda Underwater Exploration Institute on March 20, 21 and 22 and will consist of a 9am-12pm session each day. A three-day pass costs $250 or a single session is priced at $125. The workshop must be pre-booked and paid in full in advance via www.ptix.bm. Places are subject to availability.
All attendees will be invited to a networking cocktail event for a chance to speak with the presenters and other film industry guests of the festival in a more casual setting.
Read More About
Category: All, Entertainment, Films/Movies