[Written by Chris Smith]
The fifth race of the Flying Colours Mountain Bike Race Series was held at Ferry Point Park yesterday [Jan 25]. The nasty winter weather broke down and turned into another sweet Bermuda day [good for kite flying]. 97 Fat Tire racers took on the shortened tracks.
A Class once again was Dominic free. But this time around, Matthew Olivereia established dominance early and was unrelenting with his blistering pace. He finished a lap ahead of the entire field. Robin Horsefield took a distant second with [a few years former champion] Neil De Ste Croix taking third.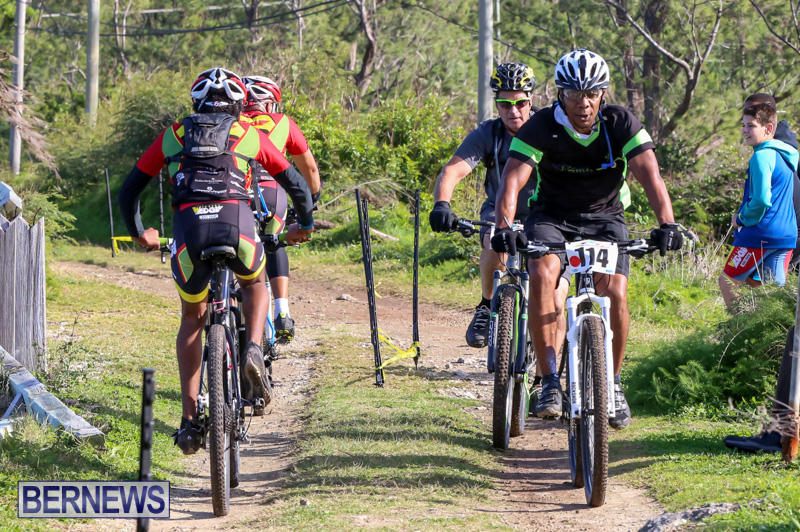 Male B saw young Dylan Hill continue his dominance with another first. Phil Trussell was too late to battle in male Veterans class having had had car issues or lost his homework or some such brilliant excuse. He still wanted to race and settled for B where he promptly took second. Shrewd moves Phil! Andrew Hern took third. Billy Phillips must be mentioned since he asked so nicely, he grabbed 18th.
Male and female Novice had a great field and a few new faces, Daron Dowling, not feeling the tougher classes this season, romped away with the win, even having enough of a lead to join Nancy Stephenson of the women's Novice to stop and watch the clock count to zero rather than running another lap. Kendra Dowling [Daron's Wife] took her first race all the way to the podium with a win. Props to all the first timers for starting and finishing such a tough course.
Also, props to Charmaine Smith for pushing hard on that first lap and leading several racers. Racing resumes on February 18TH at Fort Scaur. The full results, lap times and schedule are on www.fattiremassive.com.
The full race results follow below [PDF here]:
Read More About