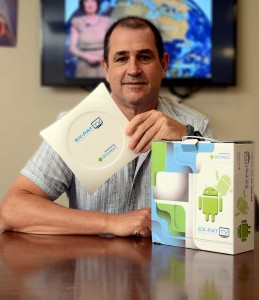 A new package of Italian TV, movie and radio stations are now available on the Island for the first time.
ExPat TV, run by Bermudian David Skinner, has been updating its services and is now bringing TV stations from the USA, Denmark, Sweden, Norway, Greece, Germany and Italy.
The new packages add to the dozens of UK channels that are already available and which cover everything from the BBC, ITV and Sky.
Mr Skinner said: "I recently had a meeting with the people behind ExPat TV when they told me about the extra packages that were available. I thought that the Italian channels, in particular, would be attractive to the Italian expatriate population in Bermuda.
"I want to offer as many services as I can, and these extra packages are part of a plan to consistently update what we are able to offer."
The Italian package has RAI 1, RAI 2, RAI News, RAI 4, RAI Premium, RAI Yoyo, RAI Gulp, RAI Movies, RAI 3, Rai Sport 1, RAI Sport 2, RAI Scuola, Italia 1, Rete 4, Canale 5 and TgCom24. As well as offering television channels, ExPat TV also has dozens of movies as well as radio stations. The service also allows you to log into Netflix.
Mr Skinner added: "I have been pleasantly surprised about how popular this has been and I hope these extra channels can add to people's viewing experience."
Subscription to ExPat TV is $60 a month and the new channels are an extra $20 each.
For more information visit www.ex-pattvbermuda.com.
Read More About
Category: All, Business, technology