Mark Anderson, who won the Visitor Industry Partnership's Sunshine Award, recently received his Sunshine Award pin and certificate from the Minister of Tourism Shawn Crockwell at a congratulatory lunch.
This quarterly programme is sponsored by the Bermuda Tourism Authority and is designed to highlight a Bermuda resident who has gone 'above and beyond' to make a Visitor's stay in Bermuda 'one to remember'. Visitors are encouraged to nominate a resident using a nomination form that can be found online at www.vip.bm.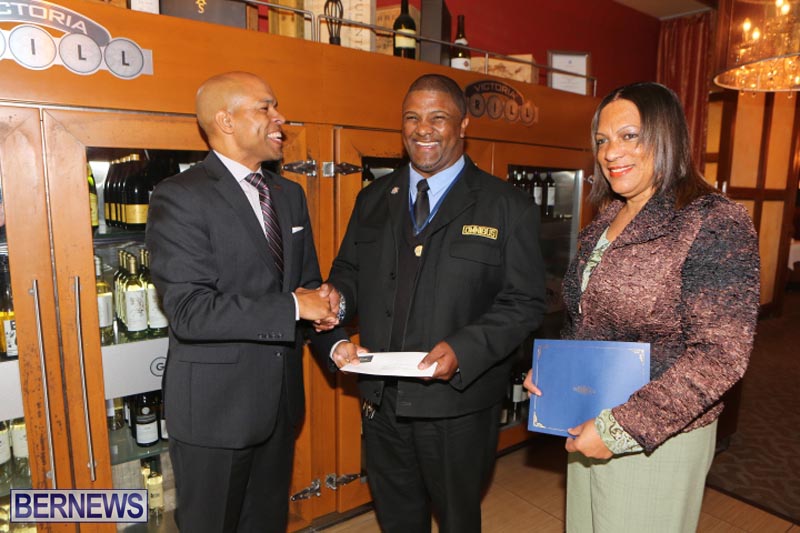 Mr Anderson, a bus driver, was nominated by Ms. Jennifer Wondolowsk who said: "Mark Anderson is the reason I'll be making a return visit to Bermuda. It was a pleasurable and memorable experience. His knowledge and pride of his home is bountiful. He went above and beyond to make the 5 hour island tour worth the time.
"Mark's outgoing, shining, personality made for a comfortable learning and entertaining tour. Bermuda should be proud to have Mark as a representative of its beautiful island. I will be making plans for my future return and look forward to seeing Mark on my future trip to learn more. A job well done!"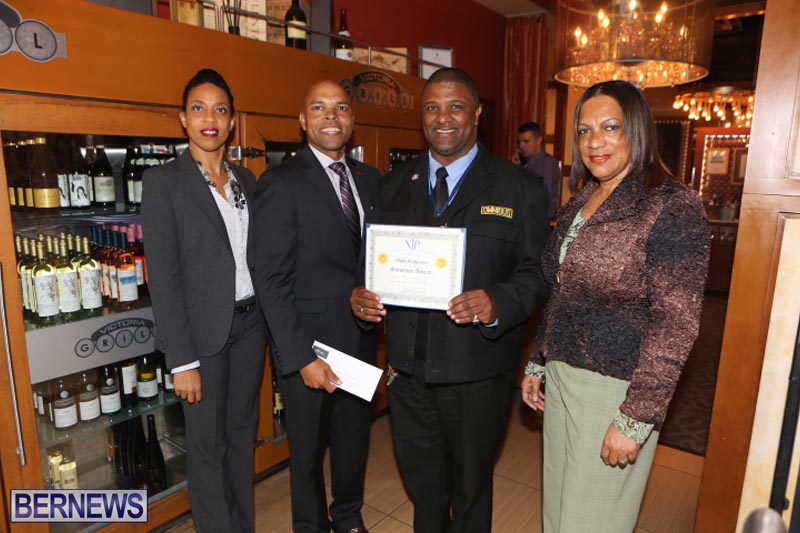 College lecturer and the Chair of Visitor Industry Partnership Dr. Barbara O'Shaughnessy said: "When VIP started this programme, this is exactly what we envisioned – a visitor so charmed that they would want to return. We are proud to congratulate and thank Mr. Anderson for making Ms. Wondolowski's Bermuda holiday such a special memory. Since the inception of the Sunshine Awards, Mark has received 85 nominations. They were all glowing and talked about his friendly and warm personality. He exemplifies the true Bermudian spirit of hospitality and friendship.
Minister Shawn Crockwell said: "Mark Anderson truly represents Bermuda hospitality; he is a tourism ambassador full of genuine warmth and friendliness. It is really good to celebrate the success of Bermudians who go above and beyond the call of duty. Today I am pleased to offer my congratulations and gratitude to Mark for ensuring that our visitors have a pleasurable and memorable experience. He is very deserving of this award."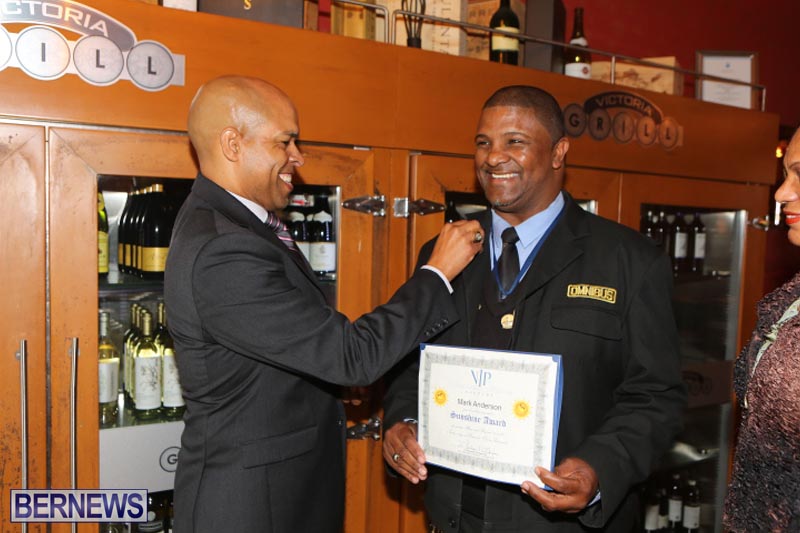 Ms. Jill Dill, Tourism Appreciation and Communications Manager and member of the judging committee commented, "The positive way in which Mark engages our visitors and showcases Bermuda's brand of hospitality is invaluable. His interactions along with the warm and sincere greetings demonstrated by all of us throughout the community are paramount in solidifying the island's reputation as one of the world's most friendly destinations."
Mr. Stephen Todd, Chief Executive Officer of the Bermuda Hotel Association and the Hotel Employers of Bermuda and member of the judging committee, said: "The recognition by the VIP of Mr. Mark Anderson as the very deserving recipient of the Sunshine Award, this is clearly an example of the important role which each of us must play in ensuring that our visitors experience the very best that our island home has to offer in the form of courteous, professional and friendly service. The accolades which he continues to receive is a testament to the pride which he has and demonstrates on an ongoing basis through his interaction with both our residents and visitors alike. Well done and congratulations Mark!
The Sunshine Awards lunch at Victoria Grill was sponsored by the Island Restaurant Group and Mr Anderson — a well known entertainer who recently walked the island to raise funds for charity — also received a hotel stay, complete with dinner and breakfast, compliments of Mr. Allan Federer, General Manager of the Fairmont Hamilton Princess Hotel.
Read More About