BIU President Chris Furbert held a press conference yesterday [Jan 20], where he discussed the latest employment statistics.
The recently released Labour Force Survey showed unemployment increasing to 9% with the workforce having shrunk by 511 workers in 2014. The 9% unemployment rate in 2014 compares to a 7% unemployment rate in 2013, an 8% unemployment rate in 2012, and a 6% unemployment rate in 2010.
Chart extracted from the Labour Force Survey report: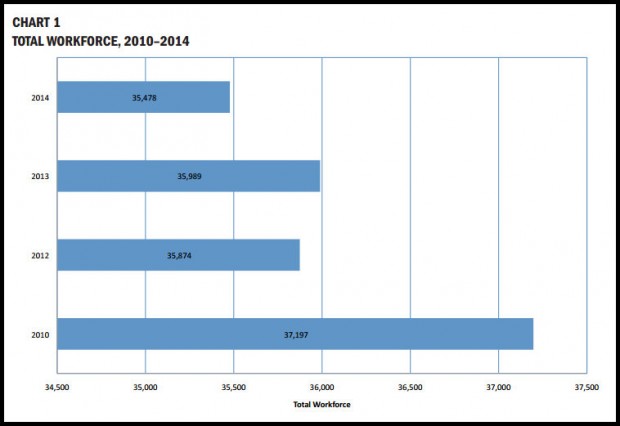 Mr. Furbert said, "On January 9th, the Minister of Finance released some numbers for the executive summary Labour Force Executive Report, based on some employment numbers.
"On Monday, the 12th of January, and I don't know whether this was recorded on the 9th of January or not, so excuse me, but on the 12th of January, I did hear the Minister of Finance make certain comments to the media about comments that had been made by me, as the President of BIU, about employment. I don't know whether one of you asked him a question about I had made a statement that in 2013 we lost some 1,166 jobs; and he says that Bermuda has never lost, or that's not true.
"My statement that I made then still holds true today. Based on the numbers that are produced by the Department of Statistics, based on these reports, it says that we lost 1,166 jobs. While I take the point they were not all Bermudian jobs, I never said that we lost 1,166 Bermudian jobs…what I said is we lost 1,166 jobs.
"It's kind of interesting because what the Minister is doing is he has taken this 2014 report, this report I believe you all have a copy of, which is the Labour Force Survey Executive Report that is done, particularly, in 2014 where they surveyed some 1500 households out of 28,818 households. That's about 5.2 percent, and what I find interesting is that we're comparing apples to oranges here.
"I'll say this to the Ministry, respectfully, you are not comparing apples to apples because this is a snapshot, only a snapshot of any given time whether it's any particular month, two months or whatever have you. Whereas this document here, is the document the Minister should be paying attention to because these are the true employment numbers.
"When we look at overall employment change from year to year, these are the numbers we have to look at; so when we say in 2013 that Bermuda lost 1,166 jobs; 628 of those jobs were Bermudian jobs, 38 were spouses of Bermudians, 494 were other non-Bermudians, and the other 8 were permanent residents – to make up a total of 1,166 jobs. That's a fact.
Mr. Furbert continued, "As of December 31st, 2013, there are some 5,936 people that have lost employment out of Bermuda's workforce. This is interesting, because what the Minister wants us to believe is that non-Bermudians shouldn't be considered in an unemployment rate; so much so that in 2013, when we were at the Tripartite Economic Forum at Fairmont Southampton Princess, made up of the government, unions, and employers, when I made the statement about the unemployment rate, the Minister said, Mr. Furbert, no, that's not correct because non-Bermudians are not included in the unemployment rate.
"I thought then it was a bit strange so I asked the government whether or not that's true, and he said that's not true. When we look at employment numbers we have to look at all employment loss. And I think that this whole issue for us as an organization is that we can't have 5,900 people go out the workforce and say, well, ok, we'll only count the Bermudians and we're not going to count the others.
"The reason why this is so important is because those 5,900 employees all contributed revenue to the Bermuda government by their payroll tax. And I would estimate by, when you look at this I think it's like 3,300 or so jobs that's lost by non-Bermudians, we can look at somewhere between 200 to 300 million dollars worth of loss of revenue for the government because it's all compounded, it's all accumulative.
"Every time a job goes this year, and let's just say we had the jobs go in 2009, if those jobs would have stayed they would have been paying from '09 to '14; so you have to look at the accumulative effect on that loss of revenue for the Bermuda government. That's why I say the number is between 200 to 300 million dollars worth of revenue that the government doesn't have in the coffers right now. And I can tell you they can really use it.
"What I would say to the Minister of Finance, and I'm trying not to be rude, but I think the Minister needs to get his head out of the sand. Because he's comparing apples to oranges, and not apples to apples, because this is the true report on employment when we look at the change of employment year over year. That's what these figures are supposed to do.
"And anytime I have a question about the employment numbers, these are not my numbers, I pick up the phone and I call the Department and ask them for clarification. They will clarify it for me and say no, Mr. Furbert, that's not correct; here's the correct answer.
13-minute video of Mr. Furbert's comments on the Labour Force Survey
"I don't just go out there on a whim, and just start speaking out from just pulling things out of the air. That's not the way how this organization operates, so I'm offended that the Minister of Finance would get on national television, last week on the 12th of January, and say that I'm out there trying to mislead the country. I don't do them kind of things. I don't do that. I report based on the information that's given to me, and based on what I see here…it's a fact.
"The final thing I want to say to you is that this sheet right here goes from 1978 all the way on to 2013. And these are employment numbers where Bermudians made up 83 percent of the workforce in 1978, while non-Bermudians made up 17 percent of the workforce. You wind it all the way forward to 2013, we're now making up 69 percent of the workforce, or 71 percent, and the non-Bermudians, are making up 29 percent of the workforce. So you do the math."
When asked if he would agree with the government's basic strategy to get more people on the island to boost the economy, Mr. Furbert said, "Yes, I would, but careful how we address that because what we want to make sure is we find the balance.
"Finding the balance is critical because there's no point in bringing all these people here and we got Bermudians unemployed. We need to find a balance between bringing those people here, and Bermudians gainfully employed because, as I continue to say to our members and the general public, when they say 'well let's just get rid of all the foreigners' we can't simply do that.
"We need to be very careful, make sure we find that balance between bringing people in, and making sure Bermudians can get gainful employment in their own country," added Mr. Furbert.
When asked whether the BIU finds any comfort in the fact that Bermuda got the America's Cup and the hotel developments that are coming, Mr. Furbert replied, "I think the concerns that are out there is that the America's Cup is only going to be for the selected few, and the government and the individuals need to make sure that that doesn't happen.
"We do recognize that not everybody is going to benefit from the America's Cup, but I think that it's up to the government to make sure that as many people as possible benefit from the America's Cup."
"I do think that it's a positive thing for the country, I'm not trying to be all negative. I think that what we will have to look at there are things that we have to try to do to grow our economy. There are things that we have to get. The America's Cup, I'm not saying it is the silver bullet that we're looking for, but it's a step in the right direction.
"What the government does with that step in the right direction is entirely up to them, and it's entirely up to the rest of the country to make sure that we can move that process forward," added Mr. Furbert.
Read More About