Stephen Allen and Jennifer Alen are the 2015 Male and Female Butterfield and Vallis 5k Champions following racing on Sunday morning.
Allen broke the tape in a time of 16:27, Tyler Smith crossed the line second but because he was registered as a Senior School participant Kelly Guest was declared the second place finisher with a time of 17:38 and Christopher Harris completed the top three with a time of 17:44.
Alen finished 11th overall clocking a time of 19:36, Deon Breary was the second female finisher and 14th overall clocking 20:11 and Laura Wright rounded out the top three female finishers clocking a time of 20:25 finishing 16th overall.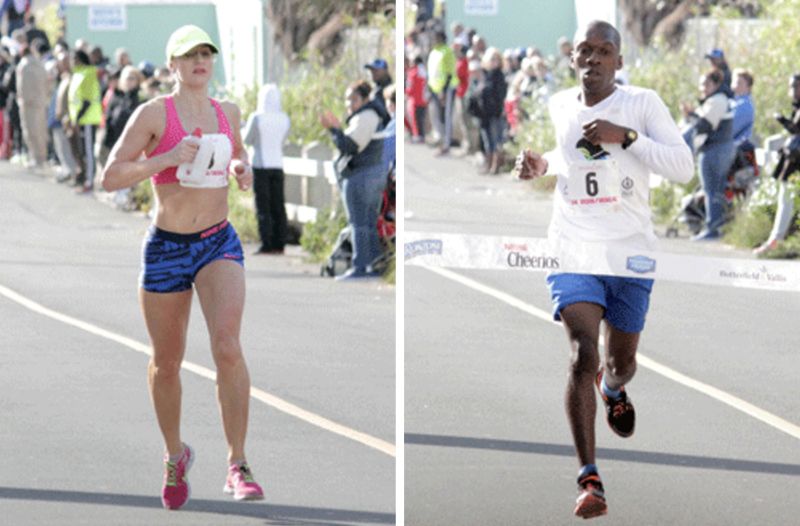 Butterfield and Vallis 5K Top 20 Finishers:
16:27 Stephen Allen
17:38 Kelly Guest
17:44 Christopher Harris
18:21 Jamie Fraser
18:43 Kevin Stephens
18:59 Chefton Hall
19:16 Trevor Lindsay
19:23 Spencer Conway
19:24 Fraser Hunt
19:34 Jahmai Lottimore
19:36 Jennifer Alen
19:43 Ronae Burgess
19:50 Jarreau Brown-Rogers
20:11 Deon Breary
20:23 Bron Turner
20:25 Laura Wright
20:26 Darin Cassidy
20:30 Ricky Sousa
20:32 Krista Dyer
20:34 Camiko Smith
Full 2015 Butterfield and Vallis Results
Run 5K
1
6
Stephen Allen
M
16:27
2
974
Kelly Guest
M
17:38
3
169
Christopher Harris
M
17:44
4
140
Jamie Fraser
M
18:21
5
363
Kevin Stephens
M
18:43
6
162
Chefton Hall
M
18:59
7
920
Trevor Lindsay
M
19:16
8
938
Spencer Conway
M
19:23
9
191
Fraser Hunt
M
19:24
10
229
Jahmai Lottimore
M
19:34
11
3
Jennifer Alen
F
19:36
12
47
Ronae Burgess
M
19:43
13
969
Jarreau Brown-Rogers
M
19:50
14
33
Deon Breary
F
20:11
15
386
Bron Turner
M
20:23
16
410
Laura Wright
F
20:25
17
63
Darin Cassidy
M
20:26
18
357
Ricky Sousa
M
20:30
19
114
Krista Dyer
F
20:32
20
955
Camiko Smith
M
20:34
21
329
Jeff Sangster
M
20:39
22
184
David Hoey
M
20:55
23
57
Colin Campbell
M
20:57
24
147
Alexander Garbiak
M
20:58
25
301
Damian Pitcher
M
21:01
26
391
Matthew Viney
M
21:12
27
932
Dean Smith
M
21:14
28
224
Gayle Lindsay
F
21:16
29
402
Tamika Williams
F
21:21
30
208
Guy Kelly
M
21:28
31
307
Jonathan Reiss
M
21:28
32
380
Kevin Topple
M
21:30
33
159
Stanley Greenslade
M
21:32
34
294
Jay Pedro
M
21:33
35
311
Jay Riihiluoma
M
21:35
36
373
Derek Thomas
M
21:36
37
271
Scott Neil
M
21:39
38
220
Jonathan Lee
M
21:44
39
182
Anna Laura Hocking
F
21:46
40
49
Cary Butterfield
F
21:46
41
51
Spencer Butterfield
M
21:47
42
252
Christopher Merritt
M
21:48
43
195
Otis Ingham
M
21:48
44
951
Rebecca Cooper
F
21:50
45
210
Sean Kelly
M
21:50
46
178
Deon Heyns
M
21:51
47
398
Gabriel Wilkinson
M
21:54
48
333
Allison Schindel
F
21:59
49
399
Garon Wilkinson
M
22:00
50
362
Stepanka Sprincova
F
22:04
51
943
Lawrence Fox
M
22:06
52
226
Melissa Logie
F
22:08
53
268
Stan Murphy
M
22:09
54
288
Mark Outerbridge
M
22:14
55
376
Alan Tiernan
M
22:17
56
934
Yannick Hillier
M
22:22
57
942
Gemma Holden
F
22:27
58
315
Elliott Rogers
M
22:31
59
91
Joey DaSilva
M
22:41
60
213
Anne Kermode
F
22:45
61
393
Jerome Wellman
M
22:51
62
248
Shane Mcilwain
M
22:59
63
961
Ryan Gibbons
M
23:00
64
923
Mcquinn Burch
M
23:02
65
120
Anthony Fellowes
M
23:09
66
179
Scott Higgins
M
23:11
67
416
Benjamin Zoellner
M
23:12
68
165
Richard Hammond
M
23:15
69
319
David Ross
M
23:16
70
308
John Richmond
M
23:17
71
263
Rob Morgan
M
23:18
72
342
Michael Simmons
M
23:21
73
78
James Cooney
M
23:21
74
316
John Rolph
M
23:23
75
217
Rebecca Kuruvilla
F
23:27
76
149
James Gilmour
M
23:29
77
29
Sean Billington
M
23:31
78
250
Bruce Menzies
M
23:32
79
228
Mark Lombardi
M
23:38
80
338
Rebecca Shepherd
F
23:40
81
96
Claire De Ste Croix
F
23:42
82
70
Lucy Ching
F
23:45
83
205
Zina Jones
F
23:46
84
254
Cynthia Millett
F
23:51
85
280
Claudia O'Reilly
F
23:53
86
102
Christopher Dill
M
23:56
87
375
Sarah Thompson
F
24:04:00
88
973
Eugene Burcher
M
24:09:00
89
46
Quinton Burgess
M
24:14:00
90
300
King Piccolo
M
24:16:00
91
116
Yuko Ebata
F
24:20:00
92
95
Leonard Davis
M
24:21:00
93
2
Mark Albouy
M
24:24:00
94
110
Marc Drew
M
24:25:00
95
185
Robin Holder
M
24:26:00
96
269
Christopher Myles
M
24:27:00
97
275
John Nusum
M
24:28:00
98
204
Ross Johnson
M
24:30:00
99
977
Denzel Simons
M
24:32:00
100
941
Denis Rowe
M
24:34:00
101
978
Kim Willey
F
24:34:00
102
970
Debbie Butterfield
F
24:34:00
103
212
Zoe Kempe
F
24:39:00
104
108
Brendan Doyle
M
24:40:00
105
313
Peter Riihiluoma
M
24:41:00
106
68
Keith Chiappa
M
24:42:00
107
326
Rodrigo Saez
M
24:43:00
108
232
Adam Lynch
M
24:45:00
109
37
Allen Brown
M
24:46:00
110
111
Maria Duffy
F
24:46:00
111
100
Fernando Deus
M
24:48:00
112
215
Jason Kim
M
24:48:00
113
255
Anonymous Participant
F
24:50:00
114
164
Mark Hamilton
M
24:55:00
115
244
Gary McCullough
M
24:55:00
116
17
Nadanja Bailey
M
24:58:00
117
322
Nick Rowse
M
24:59:00
118
246
Ewan McGill
M
25:08:00
119
237
Patrick Mahon
M
25:11:00
120
209
Jennie Kelly
F
25:13:00
121
154
Andre Gordon
M
25:17:00
122
274
Rene Notter
M
25:18:00
123
395
Conor White
M
25:22:00
124
256
Sheikia Ming
F
25:29:00
125
356
Sophia Sontag
F
25:30:00
126
221
Kim Lefebvre
F
25:32:00
127
279
Gavin O'connor
M
25:37:00
128
405
Najee Woods
M
25:40:00
129
967
Matthew Clarke
M
25:41:00
130
387
Jeffrey Tyrrell
M
25:49:00
131
929
Abi Sanche
F
25:50:00
132
85
Marilyn Cupidore
F
25:51:00
133
264
Clifford Morris
M
25:51:00
134
379
Kate Tomkins
F
25:52:00
135
270
Scott Nearon
M
25:55:00
136
150
Paul Gilmour
M
25:56:00
137
22
Loryn Bell
F
25:56:00
138
378
Peter Tobin
M
26:00:00
139
282
Aoife Ohora
F
26:01:00
140
310
Ceri Riihiluoma
F
26:02:00
141
64
Lorenzo Caubalejo
M
26:03:00
142
355
Dean Soares
M
26:05:00
143
339
Malik Showers
M
26:08:00
144
19
Nicholas Barrett
M
26:10:00
145
972
Chris Morley
M
26:12:00
146
306
Najaat Rajap
F
26:13:00
147
113
Terri Durrant
F
26:15:00
148
106
Tamsyn Doran
F
26:15:00
149
54
Hersey Caco
F
26:18:00
150
409
Jamie-Lee Wright
F
26:19:00
151
278
Dennis O'Brien
M
26:19:00
152
109
Betty Doyling
F
26:22:00
153
50
Richard Butterfield
M
26:23:00
154
181
Ali Hochberg
F
26:24:00
155
161
Michelle Hajek
F
26:28:00
156
76
Carolyn Conway
F
26:29:00
157
396
Scott White
M
26:29:00
158
305
Gabriella Pucci
F
26:33:00
159
273
Lynn Norman
F
26:33:00
160
90
Karolyn Darrell-Burgess
F
26:33:00
161
257
Suzana Ming
F
26:34:00
162
328
Leone Samuels
F
26:34:00
163
14
Nicole Arorash
F
26:35:00
164
249
Pedro Medeiros
M
26:39:00
165
25
Michelle Berkeley
F
26:40:00
166
320
Andrew Rothwell
M
26:43:00
167
158
Alison Green
F
26:45:00
168
347
Hannah Simpson
F
26:51:00
169
331
Samantha Saunders
F
26:51:00
170
129
Sarah Fields
F
26:52:00
171
297
Rebecca Perry
F
26:53:00
172
75
David Collette
M
26:54:00
173
238
Monica Maldonado
F
26:54:00
174
214
Laura Keyes
F
26:55:00
175
80
Peggy Couper
F
26:57:00
176
15
Jane Astles
F
26:59:00
177
241
Arion Mapp
M
27:00:00
178
112
Matthew Durrant
M
27:02:00
179
227
Peter Logie
M
27:03:00
180
368
Michael Swain
M
27:04:00
181
388
Lemuel Urieta
M
27:05:00
182
130
Tim Figureido
M
27:06:00
183
346
Talia Simons
F
27:07:00
184
267
Taylor Mullan
F
27:10:00
185
359
Christine Soutter
F
27:10:00
186
411
Darnell Wynn
F
27:12:00
187
285
Javier Otamendi
M
27:15:00
188
207
Edwin Katigbak
M
27:15:00
189
7
Jeff Amaral
M
27:17:00
190
243
Gillian McCann
F
27:20:00
191
351
Lesley-Jane Smith
F
27:21:00
192
148
Sheila Gazzard
F
27:23:00
193
166
Thomas Hands
M
27:28:00
194
131
Jill Finnigan
F
27:33:00
195
361
Barbara Sperryn-Jones
F
27:33:00
196
291
Christopher Parker
M
27:38:00
197
956
Sarah Browne
F
27:40:00
198
146
Alice Gao
F
27:45:00
199
73
Helen Clark
F
27:48:00
200
30
Mayberline Black
F
27:50:00
201
240
Kevin Manuel
M
27:52:00
202
265
Neil Mountford
M
27:53:00
203
979
Snjezana Tremblay
F
27:54:00
204
408
Ben Wright
M
27:56:00
205
374
Jessie Thomas
F
27:57:00
206
334
Helen Scott
F
28:03:00
207
92
Tara Davidson
F
28:05:00
208
383
Thai Tran
M
28:06:00
209
135
David Forbes
M
28:06:00
210
136
Marissa Forbes
F
28:06:00
211
45
Kim Burgess
F
28:11:00
212
314
Tony Riker
M
28:13:00
213
284
Bernard Opoku
M
28:14:00
214
234
Michael Maguire
M
28:17:00
215
177
Kerry Heigham
F
28:19:00
216
312
Mark Riihiluoma
M
28:20:00
217
94
Jo-Rena Davis
F
28:20:00
218
122
Dawna Ferguson
F
28:22:00
219
283
Marjorie Oliver
F
28:22:00
220
145
Karl Gancarz
M
28:25:00
221
9
Laura Amaral
F
28:27:00
222
172
Robyn Hayes
F
28:30:00
223
99
Sarah DeSilva
F
28:31:00
224
959
Andrew Cottingham
M
28:34:00
225
43
Ellen Burcher
F
28:36:00
226
152
Makeda Goater
F
28:38:00
227
304
Daniele Pucci
M
28:39:00
228
345
Kim Simons
F
28:42:00
229
293
Mathew Paul
M
28:42:00
230
18
Myrian Balitian-Dill
F
28:43:00
231
34
Craig Bridgewater
M
28:44:00
232
21
Warwick Bear
M
28:44:00
233
60
Somers Carr
M
28:47:00
234
309
Peter Richold
M
28:49:00
235
415
Giorgio Zanol
M
28:53:00
236
358
Timothy Sousa
M
28:56:00
237
947
Robert Jardine
M
28:59:00
238
200
Helen Jardine
F
29:00:00
239
8
Jordan Amaral
M
29:00:00
240
276
Maeve O Toole
F
29:01:00
241
298
Claudia Philipsz
F
29:01:00
242
377
Sarah Tiernan
F
29:02:00
243
81
Harry Crawford
M
29:05:00
244
98
Sarah Delgross
F
29:06:00
245
89
Miguel DaPonte
M
29:07:00
246
258
Marshall Minors
M
29:09:00
247
404
Nancy Wong
F
29:12:00
248
143
Melanie Fullerton
F
29:13:00
249
236
Barry Mah
M
29:18:00
250
372
Cynthia Thomas
F
29:20:00
251
4
Daniel Alexander
M
29:21:00
252
107
A Doyle
M
29:21:00
253
303
Samantha Price
F
29:24:00
254
160
Nicky Gurret
F
29:26:00
255
53
Ryan Cabral
M
29:30:00
256
231
Alshia Lugo
F
29:32:00
257
966
Mika Woods
F
29:35:00
258
72
Alicia Churm
F
29:37:00
259
56
Aldo Campbell
M
29:40:00
260
26
Leigh Ann Bezuidenhout
F
29:42:00
261
198
Laura Jackson
F
29:42:00
262
188
David Hope
M
29:44:00
263
381
Ryan Topple
M
29:45:00
264
382
Shannon Topple
F
29:46:00
265
23
Stephen Benn
M
29:48:00
266
222
Darrin Lewis
M
29:52:00
267
968
Natasha Marshall
F
29:54:00
268
247
Elaine McHugh
F
29:57:00
269
332
Sarah Scarborough
F
29:59:00
270
960
Suzanne Rose
F
30:02:00
271
65
Marlene Cechini
F
30:04:00
272
124
Ieva Ferguson
F
30:05:00
273
957
Alia Hamza
F
30:06:00
274
121
Craig Ferguson
M
30:07:00
275
190
Judith Howe Tucker
F
30:07:00
276
317
Stephanie Roos
F
30:07:00
277
61
Gemma Carreiro
F
30:07:00
278
132
Melissa Flood
F
30:12:00
279
945
Nicholas Brewer
M
30:13:00
280
62
Liana Carrick
F
30:13:00
281
400
Rochelle Wilkinson
F
30:19:00
282
125
Lisa Ferrari
F
30:22:00
283
302
Bryant Ploski
M
30:23:00
284
133
Julie Foggo
F
30:24:00
285
272
Nicole Nelson
F
30:25:00
286
86
Mara Curley
F
30:26:00
287
971
Gillian Yeomans
F
30:27:00
288
289
Patrick Outerbridge
M
30:29:00
289
337
Florence Sharpe-Trott
F
30:30:00
290
115
Natalie Dyrli
F
30:31:00
291
13
Edwina Arorash
F
30:31:00
292
38
Karl Brown
M
30:32:00
293
340
Kai Simmons
M
30:32:00
294
82
Louise Crawford
F
30:33:00
295
321
Emily Rowe
F
30:34:00
296
235
Samantha Maguire
F
30:37:00
297
230
Kimberley Louisien
F
30:40:00
298
10
Wanda Armstorng
F
30:41:00
299
187
Nelleke Hollis
F
30:41:00
300
403
Jennifer Wilson
F
30:45:00
301
286
Stacy Oughton
F
30:46:00
302
218
Samantha Kyme
F
30:46:00
303
290
Ryon Outerbridge
M
30:49:00
304
281
Marina O'Shea
F
30:51:00
305
330
Ailynn Sargent
F
31:05:00
306
370
Anna Tabanda
F
31:07:00
307
211
Shirley Kelly
F
31:12:00
308
171
Joanne Harvey
F
31:17:00
309
58
Renato Capriz
M
31:19:00
310
201
Jennifer Card
F
31:19:00
311
155
Sarah Gosling
F
31:28:00
312
962
Caroline Mulholland
F
31:33:00
313
144
Terry Furbert
F
31:37:00
314
24
Chantelle Berkeley
F
31:44:00
315
31
Tamara Bradshaw
F
31:45:00
316
126
Juliette Ferrari-McComb
F
31:56:00
317
352
Shawnette J. Smith
F
31:59:00
318
369
Cherylle Swan-Simons
F
32:03:00
319
336
Andrea Sewell
F
32:04:00
320
367
Anita Swain
F
32:07:00
321
364
Nancy Stevens
F
32:08:00
322
245
Sarah Mcdonald
F
32:08:00
323
16
Chantelle Aubrey
F
32:09:00
324
389
Elizabeth Valencia
F
32:09:00
325
277
Carlita O'Brien
F
32:14:00
326
344
Gregory Simons
M
32:19:00
327
325
Sonia Rymon-Lipinski
F
32:20:00
328
299
Rickado Phipps
M
32:23:00
329
219
Gerri Landy
F
32:27:00
330
192
Simon Hunter
M
32:38:00
331
117
Sherrisse Facey
F
32:41:00
332
233
Tamacia Lynch
F
32:41:00
333
163
Self Hamac
M
32:42:00
334
32
Heather Brain
F
32:49:00
335
261
Kim Morbey
F
32:51:00
336
157
Clint Graham
M
32:51:00
337
71
Darren Choonucksing
M
32:53:00
338
104
Leonie Dill
F
33:05:00
339
295
Andrea Peets
F
33:10:00
340
67
Lorella Chan
F
33:11:00
341
921
Nicki Horan
F
33:16:00
342
239
Sue Malpas
F
33:17:00
343
335
Vanessa Scott
F
33:25:00
344
193
Sebastien Iaxx
M
33:25:00
345
406
Nandi Woods
F
33:30:00
346
196
Dee-AH Iris-Outerbridge
F
33:32:00
347
74
Abjel Colis
M
33:36:00
348
128
Melissa Ferrer
F
33:36:00
349
262
Camille Morgan
F
33:37:00
350
948
Sarah Ible
F
33:42:00
351
69
Heather Chilvers
F
33:45:00
352
324
Chelito Ruddock
F
33:47:00
353
413
Leanne Yates
F
33:48:00
354
251
Caroline Merritt
F
33:48:00
355
87
Clinton Curtis
M
33:50:00
356
189
Jane Hope
F
33:56:00
357
296
Victoria Pereira
F
33:57:00
358
371
Anonymous Participant
F
33:57:00
359
5
Veneta Alexieva
F
34:06:00
360
202
Christine Joell
F
34:14:00
361
407
Randell Woolridge
F
34:16:00
362
127
Nicola Ferreira
F
34:25:00
363
101
Lisa Dietz
F
34:39:00
364
20
Karlene Barrow Kelly
F
34:41:
365
35
Carol Bromby
F
34:41:00
366
55
Ian Callaghan
M
34:56:00
367
44
Jannell Burgess
F
35:01:00
368
203
Melody Johnson
F
35:04:00
369
12
Donna Mae Arorash
F
35:06:00
370
119
Catherine Farnworth
F
35:12:00
371
170
Martina Harris
F
35:15:00
372
414
Reggie Young
M
35:32:00
373
59
Shannon Carlin
F
35:33:00
374
1
Sophie Adams
F
35:35:00
375
397
Kortny Wiebe
F
35:41:00
376
417
Laurie Zuill
F
35:48:00
377
197
Jillian Irving
F
35:49:00
378
83
Sally Crawford
F
36:40:00
379
97
Suzanne Decouto
F
36:52:00
380
138
Simone Fox
F
36:53:00
381
151
Alex Go
M
37:13:00
382
216
Eileen King
F
37:22:00
383
52
Kate Cabral
F
37:28:00
384
366
Shannon Street
M
37:33:00
385
156
Kristi Graber
F
37:33:00
386
394
Gina Wheatley
F
37:41:00
387
84
Danielle Cross
F
37:46:00
388
360
Tdeana Spencer
F
37:50:00
389
412
Peggy Yang
F
37:50:00
390
260
Anna Moniz
F
38:17:00
391
392
Debbie Walsh Brown
F
38:17:00
392
194
Sakina Ible
F
38:42:00
393
933
Christian Adair
M
38:48:00
394
105
Ruby Dill
F
39:09:00
395
123
Deshante Ferguson
F
39:18:00
396
292
Marivic Patasin
F
39:33:00
397
167
Angela Hanwell
F
39:47:00
398
118
Sarah Faiella
F
39:47:00
399
341
Kaitlyn Simmons
F
40:29:00
400
287
Amanda Outerbridge
F
40:30:00
401
323
Nicole Rozon
F
40:51:00
402
390
Jalesa Vincent
F
40:51:00
403
103
Kristin Dill
F
41:16:00
404
350
Laura Smith
F
41:34:00
405
40
Karen Bunner
F
41:46:00
406
183
Kelly Hodsoll
F
41:49:00
407
354
Treamae Smith
F
42:10:00
408
153
Alethia Gooden-Young
F
42:38:00
409
139
Phil Francis
M
43:20:00
410
77
Annette Cook
F
43:33:00
411
348
Charmaine Smith
F
44:20:00
412
88
Anonymous Participant
F
45:11:00
413
180
Christianna Hiles
F
45:13:00
414
11
Dianna Armstrong
F
45:13:00
415
41
Margo Burchall
F
45:48:00
416
206
Manny Julian
M
47:14:00
417
137
Sonja Forester
F
48:14:00
Primary School 2.7k
1
680
Tommy Marshall
M
10:18
2
712
Yari Tucker
M
10:35
3
673
Daniel Larson
M
10:43
4
665
Jade Johnston
F
11:03
5
490
Jessica Bruton
F
11:03
6
488
Jake Brislane
M
11:25
7
688
Ben Osset
M
11:33
8
702
Elijah Samuels
M
11:34
9
668
Josiah King
M
11:38
10
686
Cameron Morris
M
11:46
11
660
Zoe Hasselkuss
F
11:47
12
944
Bakari Furbert
M
11:51
13
691
Keshon Paynter
M
11:55
14
690
Torque Outerbridge
M
11:56
15
491
Ajani Burchall
M
12:02
16
492
Zende Butterfield
M
12:08
17
697
Jannis Roberts
M
12:10
18
500
Amir Dill
M
12:20
19
655
Jack Gazzard
M
12:21
20
657
Louis Hammond
M
12:24
21
709
Jezhari Talbot
F
12:24
22
707
Jazai Swan
M
12:25
23
924
Owen Botelho
M
12:28
24
719
Ariane Willmott
F
12:29
25
696
Jake Roberts
M
12:32
26
705
Myeisha Sharrieff
F
12:40
27
715
Harlan Watson-Brown
M
12:41
28
687
Eddie Norman
M
12:42
29
671
Drake Kucharik
M
12:45
30
975
Ramiah Brangman
F
12:48
31
672
Jack Kyme
M
12:52
32
714
Flynn Watson-Brown
M
12:57
33
928
Khari Sharrieff
M
13:00
34
706
Jake Smith
M
13:00
35
647
Leo Foster
M
13:01
36
718
Sam Williamson
M
13:02
37
679
James Luckham
M
13:07
38
649
Adrian Fox
M
13:09
39
682
Lindsay Mawer
F
13:11
40
922
Tayla Horan
F
13:16
41
646
Noah Ferreira
M
13:21
42
666
Keegan Jones
M
13:23
43
495
Aaron DaSilva
M
13:24
44
658
Megan Hands
F
13:24
45
685
Liana Medeiros
F
13:25
46
703
Anijahe Santos-Martin
M
13:27
47
484
Adriana Argent
F
13:27
48
693
Andrew Phillips
M
13:36
49
940
Niamh Rowe
F
13:36
50
669
Masaki Kitade
M
13:36
51
648
Luke Foster
M
13:36
52
700
Adriano Rymon-Lipinski
M
13:39
53
710
Andrew Tobin
M
13:41
54
720
Eliza Withers-Clarke
F
13:46
55
674
Donaldo Laurenceo
M
13:46
56
496
Ashley DaSilva
F
14:08
57
656
Nayan Grant
M
14:16
58
651
Dylan Fox
M
14:23
59
493
Charlie Calveley
M
14:33
60
694
Malaya Raynor
F
14:37
61
667
Maximilian Kimberley
M
14:55
62
692
Edward Perinchief-Ingham
M
15:03
63
952
Logan Butterfield
M
15:05
64
497
Enshe-nico Davis
M
15:07
65
701
Olek Rymon-Lipinski
M
15:10
66
678
Alexander Luckham
M
15:13
67
927
Fenella Wightman
F
15:15
68
925
Chloe Botelho
F
15:34
69
670
Peter Komposch
M
15:43
70
708
Zuri Swan
F
15:49
71
681
Alleira Martin
F
15:57
72
661
Monty Hastings
M
16:05
73
486
Zylah Bean
F
16:06
74
713
Quentin Vaucrosson
M
16:16
75
676
Mark Lewis
M
16:43
76
494
Samara Darrell
F
16:50
77
930
Kristian Davis
M
17:05
78
717
Katya Williamson
F
17:19
79
662
Jamir Hatherley
F
17:35
80
650
Allayna Fox
F
17:48
81
683
David McDonald
M
17:49
82
931
Jolie Davis
F
18:03
83
654
Teddy Gadeke
M
18:18
84
716
Nicholas Weikl
M
19:06
85
695
Lauren Riihiluoma
F
20:05
Middle School 2.7k
1
749
Jayden Ming
M
9:23
2
756
Ryan Outerbridge
M
9:36
3
737
Ashley Irby
F
9:43
4
739
Quincy Kuzyk
M
9:57
5
769
Zebedee Wakely
M
10:00
6
740
Adam Larson
M
10:20
7
768
Selah Tuzo
F
10:25
8
726
Cameron De Ste Croix
M
10:30
9
916
Jenico Sealey
M
10:34
10
727
Max De Ste Croix
M
10:44
11
917
Seon Tatem
M
10:50
12
765
Alexander Southern
M
10:52
13
757
Geroge-Hilton Peets
M
10:55
14
732
Rudi Hammond
M
10:57
15
736
Caleb Ingham
M
10:59
16
725
Andrew DaSilva
M
10:59
17
760
Jarryd Richardson
M
11:01
18
735
Jack Harvey
M
11:02
19
915
Omari Williams
M
11:07
20
489
Holly Bruton
F
11:10
21
743
Christen Lugo-Elibox
M
11:10
22
729
Charlie Few
M
11:10
23
734
Trent Harris
M
11:23
24
759
Nicholas Pilgrim
M
11:24
25
755
Mikaela Outerbridge
F
11:35
26
723
Taylor Carrick
M
11:51
27
738
Jerlayah Kenney
F
11:58
28
767
Ricardo Tucker Jnr
M
12:03
29
919
Kyjah Simons
M
12:03
30
754
Freya Neame
F
12:06
31
750
Kaylah Ming
F
12:08
32
730
Jalen Fox
M
12:14
33
724
Benjamin Darling
M
12:17
34
745
Allan Martin Jr
M
12:26
35
721
Nadre Ahknaton-Tuzo
M
12:27
36
764
Kyasia Simmons
F
12:34
37
746
Brianna Mawer
F
12:59
38
762
Naziah Robinson
F
13:09
39
752
Kaamilah Nasir
F
13:10
40
918
Myles Smith
M
13:17
41
722
Umari Brown
M
13:20
42
912
Za-Khari Turner
F
13:36
43
733
Celia Harris
F
13:39
44
753
Nabiilah Nasir
F
13:56
45
763
Zico Saltus-Seymour
M
14:03
46
909
Brijette Basden
F
14:03
47
771
Logan Watson-Brown
F
14:07
48
911
Kani-Xah Dillworth
F
14:11
49
913
Adia Gibbons
F
14:28
50
907
Samaria Tatem
F
14:38
51
766
Kate Tobin
F
14:57
52
908
Kaylee Lema
F
15:01
53
910
Addy Malpas
F
15:15
54
761
Allie Riihiluoma
F
15:34
55
741
Natalie Lightbourne
F
15:56
56
758
Gevian Peets
F
16:52
Senior School
1
788
Tyler Smith
M
17:06
2
779
Kaden Hopkins
M
20:16
3
731
Messiah Greaves
F
20:56
4
786
Lynsey Palmer
F
21:21
5
775
Christian Chin-Gurret
M
23:03
6
778
Laura Hope
F
23:35
7
776
Neil Figureido
M
23:51
8
783
Madelyn Moore
F
24:03:00
9
789
Nazari Woods
M
24:40:00
10
774
Camille Chin-Gurret
F
25:04:00
11
926
Jordan Swan
M
25:20:00
12
782
Cassy McPhee
F
25:36:00
13
777
Rebecca Harrison
F
25:45:00
14
781
Kip Malpas
M
25:52:00
15
785
Kerry Palmer
F
26:15:00
16
780
Shirwin Jones
M
27:32:00
17
773
Noah Brady-Soares
M
35:35:00
18
784
Tonya Ottley Peets
F
41:33:00
19
787
Senait Smith
F
48:54:00
Walkers
1
475
Robert Thomas
M
33:03:00
2
471
Sinclair Smith
M
34:26:00
3
482
Gary Young
M
34:54:00
4
953
L. Shinah Simons
M
35:17:00
5
483
Sheena Young
F
35:30:00
6
461
Nigel Richardson
M
35:53:00
7
448
Joseph Matthew
M
35:57:00
8
441
Jaquita Ingham
F
35:57:00
9
946
Siena Bell
F
36:04:00
10
451
Ray Medeiros
M
37:39:00
11
474
Lauretta Stoneham
F
38:24:00
12
426
Gina Bradshaw
F
38:24:00
13
935
Gilda Cann
F
38:25:00
14
434
Mariae C Dixon
F
38:39:00
15
438
Chantal Fray-Forbes
F
39:55:00
16
476
Louise Treacy
F
39:59:00
17
422
Beverley Barton
F
40:47:00
18
453
Karina Rosario Menzies
F
40:47:00
19
468
Flo Simons
F
40:57:00
20
459
Patricia Pitcher
F
41:04:00
21
470
Sean Smith
M
41:27:00
22
472
Trixie Smith
F
41:32:00
23
423
Zharia Bean
F
42:08:00
24
424
Brian Botelho
M
42:18:00
25
958
Alison Davis
F
42:37:00
26
456
Thomas Perry
M
43:03:00
27
428
Edwin Caisey
M
43:04:00
28
440
Harley Hayward
M
43:06:00
29
457
Tine Perry
F
43:26:00
30
473
Shane Somner
M
43:53:00
31
906
Melvina Warren
F
44:34:00
32
432
Brittni DeSilva
F
44:55:00
33
464
Stacie Robinson
F
44:56:00
34
436
Steven Flood
M
45:17:00
35
454
Louis Millar
M
45:41:00
36
455
Natalie Millar
F
46:17:00
37
419
Frances Albouy
F
46:43:00
38
442
Shirelle Jones
F
46:49:00
39
469
Karen Smith
F
46:54:00
40
421
Rachel Ball
F
47:21:00
41
420
Josh Ball
M
47:25:00
42
963
Kelly Williams
F
47:34:00
43
429
Margaret De Costa
F
47:39:00
44
477
Dajounae Trott
F
47:47:00
45
447
Aleisha Martin
F
47:48:00
46
462
Kennisha Richardson-Tucker
F
47:56:00
47
430
Donna Dean
F
47:58:00
48
445
Roxanne Lindsay
F
48:12:00
49
425
Mila Boyle
F
48:32:00
50
481
Audrey Way
F
48:32:00
51
450
Joanne Medeiros
F
49:46:00
52
427
Kimberley Bridgewater
F
50:23:00
53
939
Toni Greenidge
F
50:30:00
54
458
Steven Petty
M
50:50:00
55
435
Alberta Dyer Tucker
F
51:04:00
56
479
Jay Tucker
M
51:04:00
57
431
Stephen Dean
M
54:44:00
58
463
Sue Riihiluoma
F
56:06:00
59
449
Sonia McCaskie
F
56:06:00
60
460
Veronica Renaud
F
56:07:00
61
936
Linda Hanson
F
56:12:00
62
480
Rebecca Tucker
F
56:24:00
63
446
Fiona Loveland
F
56:24:00
64
466
Marissa Santos
F
56:55:00
65
452
Sophia Medeiros
F
56:55:00
Read More About