With the main event set to take place on Sunday [Mar 1], the Pirates of Bermuda are continuing to take hostages, following up on the original 50 that were claimed earlier this month.
A spokesperson said, "This Sunday [Mar 1], as organized by the Bermuda Sloop Foundation, over 50 hostages from all walks of life will have their fate read in front of their friends, family and colleagues who donated towards them either being saved, or more likely, towards making them walk the plank.
"All funds raised go towards the Bermuda Sloop Foundation's sail training programmes on board Spirit of Bermuda."
Top: The Pirates of Bermuda led by Captain Diana Martin [Bermuda Sloop Foundation CEO], Middle: Daryl Walwyn [Tokio Millennium Re], John Buckley [Bacardi], Gail Miller [The OIL Group of Companies], Keith Griffin [Ariel Re], Bottom: Tom Miller [PwC], Victoria Cunningham [Tokio Millennium]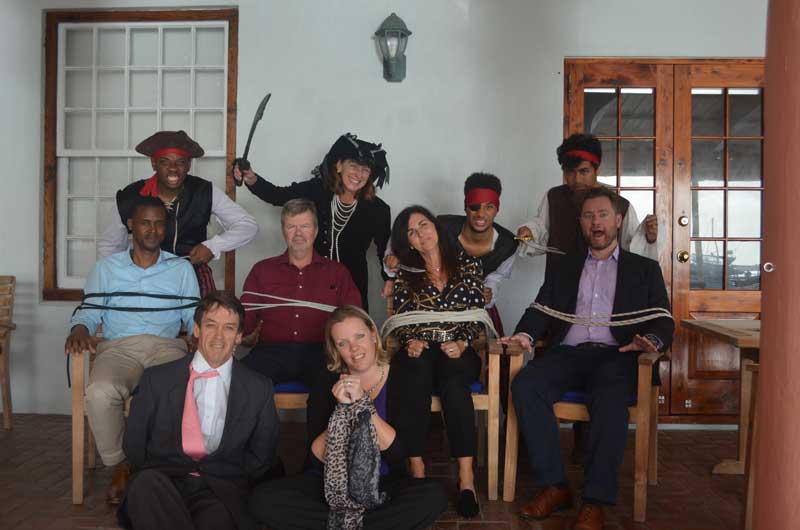 "This is a community event and the public is invited to join in the fun this Sunday, March 1st from 2.00pm to 4.00pm at Number One Dock, Front Street to witness the spectacle.
"Besides the obvious entertainment of seeing people "forced" off the Spirit of Bermuda into the chilly waters of the Hamilton Harbour, there will also be food vendors, music and live theatrical entertainment.
"Donations are still being accepted and those wishing to contribute are encouraged to go online to view the 2015 hostages."
Organised by the Bermuda Sloop Foundation as its largest fundraiser of the year, the event features a charitable goal of $200,000; the 2014 iteration of the event raised more than $150,000, while the 2013 event raised more than $100,000.

Read More About
Category: All