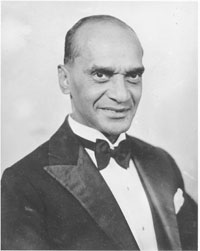 In collaboration with the Department of Community & Cultural Affairs and Chewstick Foundation, Imagine Bermuda is celebrating the 120th Anniversary of Dr. E.F. Gordon's birth today [Mar 20] at City Hall between noon and 1 pm.
A spokesperson said, "In the spirit of fostering that sense of unity, we have as the Honorary Patrons of the Celebration, two Parliamentarians from either side of the House of Assembly.
"They include Hon. Kim Wilson of the Opposition, who is the grand-daughter of the late- Austin Wilson who was a founding-member of the executive committee of the Bermuda Workers' Association who invited Dr. Gordon to consider serving as their President.
"In addition we have Mr. Kenneth Bascome of the Governing Party, who is the grandson of the late-Leonard Bascome who is credited with the leg-work in getting Dr. Gordon elected and re-elected into a seat in Parliament, representing St. George. Leonard Bascome took over as President of the BIU, immediately following the death of Dr. Gordon in 1955, serving out that decade.
"The program at City Hall reflects our Island's diversity. There will be a presentation delivered in tandem, by Chris Furbert who is both President of the BIU and the BTUC, as well as Kristi Grayston, the President of the Bermuda Chamber of Commerce. There will also be music and spoken word by students from Berkeley, Bermuda High School for Girls [BHS], CedarBridge, Mount Saint Agnes and Saltus.
"This Celebration is being achieved through that spirit of our better selves as we recognize our shared heritage. Without a budget, folks have rallied together in appreciation of an icon, who was both selfless and courageous.
"We are thankful to all involved for their accommodation, including the Mayor and staff of the Corporation and the iconic entertainer, Gene Steede. The former Premier Dr Ewart Brown has even postponed for a half-hour, the unveiling of his portrait at the Cabinet Office, to accommodate these proceedings.
"As we pause to look back on a chapter of our history, we can draw lessons and strength for the challenges we face today and into our shared future."
Read More About