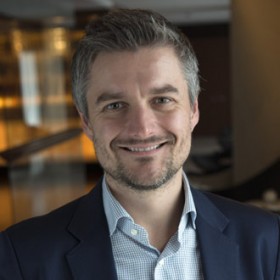 Bermuda-based Bacardi Limited, the world's largest privately held spirits company announced that Dmitry "Dima" Ivanov [pictured], Chief Marketing Officer of Bacardi, has been named to the 2015 Ad Age 40 Under 40 list.
This is Ad Age's third annual 40 Under 40 list, a recognition of those in the media, marketing and agency worlds who have achieved outstanding accomplishments at a relatively young age and are likely to shape the marketplace in the future. See the complete list at adage.com/201540under40.
At 38 years old, Mr. Ivanov is responsible for the global marketing organization and driving the internationally known Bacardi portfolio of premium spirits brands. His role encompasses brand equity, architecture, positioning, advertising, packaging, and strategic direction on innovation.
"We've always known Dima was among the best of the best. Now we have further validation from the highly respected marketing and media organization of Ad Age," says Bacardi Limited CEO Mike Dolan.
"We couldn't be more thrilled and proud of our chief marketing officer and are certain Dima's track record of producing outstanding, creative campaigns will continue. The best is yet to come!"
"Ad Age's 40 Under 40 recognizes some of the finest and most forward-thinking talent in marketing today," says Judann Pollack, Deputy Editor of Advertising Age. "This year's class encompasses bright minds in agencies, marketing and media companies, talent agents, social media and more.
"The list includes executives who market everything from Burger King to Bud, along with the founder of Girls Who Code, an organization devoted to furthering the tech talents of young women. But while their achievements are varied and their experiences diverse, all our 40 Under 40 have one thing in common: they are smart young innovators who will be driving business for years to come."
The list is cultivated by Ad Age's editors and reporters and takes into account factors such as business results, innovation in their fields, outstanding achievements and reputation among their clients and peers, among other factors. Each class of 40 Under 40 is asked to nominate bright minds for the following year's list.
"I get energy from challenging the traditional marketing rule book and am inspired by the opportunities being created every day in the world of digital," said Mr. Ivanov. "It's an honor to be included in this list. It really is an impressive group of work and talent."
Before he took over the CMO spot in January, Mr. Ivanov was Vice President – Global Category Director of Rums for Bacardi responsible for leading the marketing and premium positioning of the Bacardi portfolio of rums including the iconic and namesake BACARDÍ rum brand. In that role, he spearheaded the current "BACARDÍ Untameable Since 1862" global marketing platform and advertising campaign, and the recently launched new pack design for the BACARDÍ rum portfolio.
Read More About