Bermuda Commercial Bank's Board of Directors announced that David Cash and Derek Stapley were appointed to the Board with effect from February 25, 2015.
A native of Bermuda, Mr. Cash has been active in promoting the island's international business sector. He joined the Board of Directors of Business Bermuda in 2009 and was appointed as its Chairman in March 2011. He is a founding member of the Board of Directors of the Bermuda Business Development Agency ["BDA"] and currently serves as its Deputy Chairman.
Mr. Cash is a former Chief Executive Officer of Endurance Special Holdings Ltd, an international insurance and reinsurance company. Mr. Cash joined the company at its launch in December 2001 and served in a variety of roles until standing down as Chief Executive Officer in May of 2013.
His roles at Endurance also included Chief Underwriting Officer, President of Bermuda operations and Chief Actuary & Risk Officer. Prior to joining Endurance, Mr. Cash worked for subsidiaries of Zurich Financial Services in New York and Bermuda.
Before that, he was a consulting actuary with Tillinghast/Towers Perrin. He earned a M.Sc. in Mathematics from Oxford University, which he attended as a Rhodes Scholar. Mr. Cash is a Fellow of the Casualty Actuarial Society and a Member of the American Academy of Actuaries.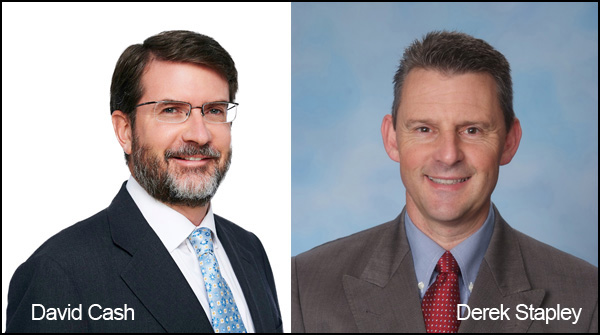 Mr. Stapley, a qualified Chartered Accountant, serves as an independent director on the board of several public and private investment funds, insurance companies and Private Client structures. Mr. Stapley is a former partner of Ernst & Young's Financial Services Practice.
He spent 20 years with Ernst & Young's Bermuda office, holding a number of positions including several years as the leader of Investment Funds and Private Clients. In 2006 he joined Ernst & Young's Global Asset Management Group, specialising in the Alternative Investment Industry, where he chaired the Global Hedge Fund Steering Committee. Mr. Stapley left the firm in 2009.
Mr. Stapley holds a Bachelor of Arts degree in Accounting from the Caledonian University in Glasgow and is a member of the Institutes of Chartered Accountants of Scotland and Bermuda and a member of the Institutes of Directors in the United Kingdom and Bermuda.
Mr. Stapley serves in a volunteer capacity as a Director of the Bermuda Business Development Agency. The BDA works to stimulate the economy and create and maintain jobs on the Island through targeted marketing and business development.
"BCB is delighted by the appointments of Mr. Cash and Mr. Stapley," stated Interim Board Chairman Mr. Alan Gilbertson, "They are highly educated, deeply experienced and hugely capable businessmen. They will make important contributions to the BCB Board of Directors during an exciting and promising time for the Bank."
With effect from February 25, 2015, Mr. Christopher Swan resigned from the Bank's Board of Directors, to which he had been appointed in May 2010.
"We fully understand that Mr. Swan's priority had to be his growing legal practice," said Mr. Gilbertson, "We wish him well and have appreciated his positive and wise contributions to the Board."
Read More About