The 2015 NACRA Caribbean Men's 15-a-Side Rugby Championships will see a match played tomorrow [Mar 7] between Bermuda and Turks and Caicos at the National Stadium North Field, while the home team "hope to see a lot of supporters next to the field."
Gates will open at 12.00pm, with the day starting off with youth and women's matches before the main event kicks off at 4.00pm.
Jonathan Cassidy said, "The Bermuda team is a well balanced side for the first time in three seasons; the coaching team believe they have all the best players available in Bermuda in the squad of 30 and the best possible 23 was selected for this coming game.
"Their preparation has gone to plan and, as a coaching team, they feel the team is ready for the job at hand and they are really looking forward to seeing the dividends of the team's hard work pay off on the field on Saturday."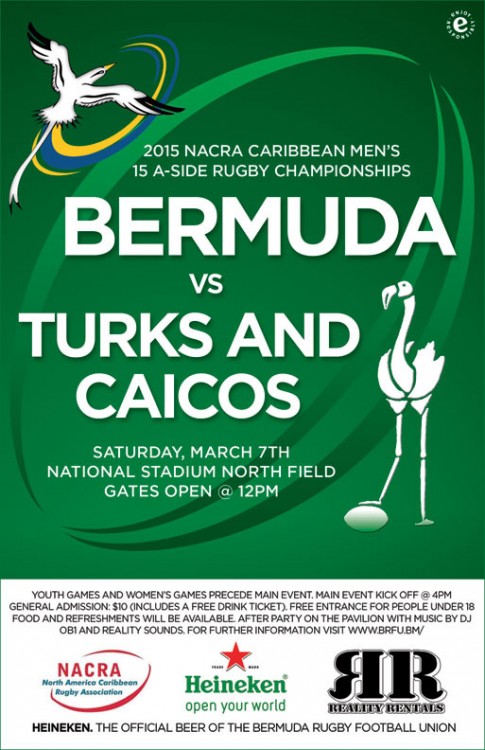 "It goes without saying it's always a pleasure to play an international game at home as support just adds the X factor for the team to perform a level above their natural ability; they hope to see a lot of supporters next to the field.
"Along with the main fixture, the day will also showcase woman's and youth rugby, with the first game starting at 12 noon and the main game kicking off at 4.00pm. Entrance is $10 per adult [Including a free drink] and kids are free. Gates open at 11.30am and the main fixture will be followed by an after-party at the field which will move to Docksiders at 10.00pm."
The Bermuda squad's forwards include Adam Richards, Aldo Campbell, Bennet Gibson, Chris Stafford, Conor McGlynn, Darren Richardson, Dustin Archibald, Jahan Cedenio, Mike Williams, Paul Dobinson, Peter Dunkerley, Richard Howells, Roedolf van der Westhuizen, and Thomas Greenslade.
The squad's backs will include Dan Cole, Dunferd Davis, John Quigley, Nigel Burgess, Paddy Calow, Richard Cumbers, Steven Husbands, Thomas Edwards, and Tom Healy.

Read More About