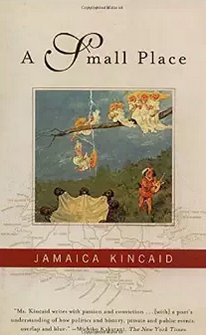 Today [Mar 17] The Bermuda National Library book club will discuss "A Small Place" by Jamaica Kincaid, featuring a powerpoint of Manuel Palacio digital art interpretation of the book.
Mr Palacio said, " Bermuda, A Small Place, homage to Jamaica Kincaid," is my continuation from "Black Apartheid" critique of the PLP government…
"Bermudians replaced their government because they're different, not ideologically labor vs. conservative; but because one party found a better more effective way to use color as a way to keep power for the benefit of a view.
"This recurrence Kincaid points out in "A small Place " is a legacy of our shared history. And like personal relationships it is the past, misguided or not, that guides the decision of the future.
"So today we pass judgment on Bermuda with the lesson that we've been taught. Hoping for an outcome, that will not help our future generations, but make us feel better for the history, that defines who we are.
"This exhibit like all art is here to open a dialog, to learn your history or an interpretation I was not awarded of, to be part of a community diverse, but at least understanding one another as human beings not as representative of a history.
"As Jamaica Kincaid " A Small Place" ends: …Of course, the whole thing is, once you cease to be a master, once you throw off your master's yoke, you are no longer human rubbish, you are just a human being, and all the things that adds up to. So, too, with the slaves. Once they are no longer slaves, once they are free, they are no longer noble and exalted; they are just human beings."
Read More About
Category: All, Entertainment